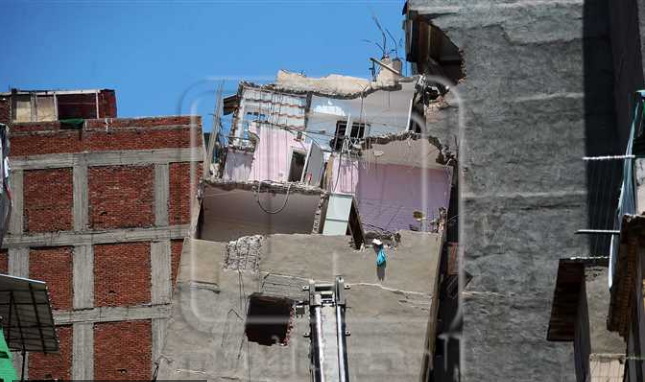 Mohamed Sultan, Governor of Alexandria, said that the stage of danger has been exceeded in the Azarita leaning building as 11th floor has been destroyed.
The authorities will continue the demolition of the whole building, he added.
The 13th and 14th floors were demolished at first to ease the burden on the rest of the floors, then the the leaning building was separated from the other building it fell on, he said.
Sultan thanked the Faculty of Engineering professors, the Engineering Military Northern Zone's engineers for the effort they exerted since the crisis started.
Sultan called on people not to buy or rent flats in illegally built buildings. He also called on the parliament to amend the law on illegally built buildings.
Twenty-one residential units in Al-Amreya area have been provided for the residents of Alexandria's leaning building, said Undersecretary of Social Solidarity Ministry, Mohamed Kamal.
Kamal said the twenty-one units have been furnished and would be handed over to residents on Tuesday.
The Directorate of Social Solidarity in Alexandria disbursed LE300 to all families affected by the evacuation of the building in Azarita area at the rate of LE100 per day for each family, over three days.
The Misdemeanor Court renewed the detention of Mervat Awad Nasr, the owner of the building, for 15 days pending investigation into the collapse of the building.
A security source began investigating four laborers who have been carried out the demolition over charges of theft of money and gold ornaments from an apartment.
The Engineering Division of the Northern Military Region, in coordination with Alexandria local authorities and the Arab Contractors Company continued demolishing the collapsed building for the fifth day in a row.
Edited translation from Al-Masry Al-Youm