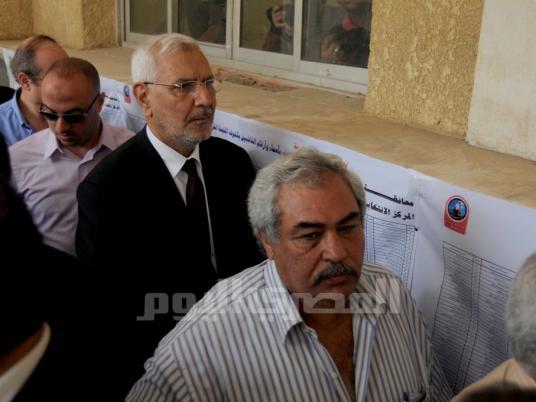 Two former presidential candidates are speculating about the results of the second phase of the referendum on Saturday, after the draft constitution won 56 percent approval from voters during the first phase last week.
Abdel Moneim Abouel Fotouh, head of the Strong Egypt Party and a former presidential candidate, said that he expects the second stage of the referendum to be "a carbon copy" of the first.
An estimated 31 percent of voters in 10 governorates went to the polls on Saturday, 15 December. The remaining 17 governorates are scheduled to vote on Saturday.
Abouel Fotouh said he wished the new constitution would receive a 90 percent majority, with a voter turnout of around 70 percent. That way, Egypt would have a new constitution that satisfies the people, so that the country could move past the current state of polarization, which he blamed on the political leadership as well as the opposition.
He described the political polarization as "elitist," adding that even though his party rejects the draft constitution, it recognizes that people should yield to popular will as represented in the referendum results, Qatar News Agency reported.
"We do not reject the constitution in its entirety. Regrettably, constitutions are not put to referendum as articles. Had we been asked to vote on articles separately [rather than on the whole document] we would have accepted most of its articles and only rejected those to which we object," he said.
Abouel Fotouh added that he has objective reasons for rejecting the constitution that are disconnected from ongoing political disagreements.
Ahmed Shafiq, a member of former President Hosni Mubarak's regime who lost to this year's presidential election to Mohamed Morsy, expected results in the second phase of voting to mirror the results of the presidential election. He anticipated that people would vote "yes" or "no" based on their opinion of the Muslim Brotherhood and Morsy.
He said he hopes residents in the Delta governorate of Monufiya "will play a major role in serving Egypt" when they head to the polls Saturday.
Monufiya gave Shafiq approximately half of its total votes in the first round of the presidential election and over 70 percent of the votes in the second round, which concluded in June.
On Thursday, Shafiq said on his Twitter account, "I will remain indebted to the people of Monufiya for as long as I live. I hope their role in serving Egypt next Saturday does not fall short of expectations."
Edited translation from MENA and Al-Masry Al-Youm