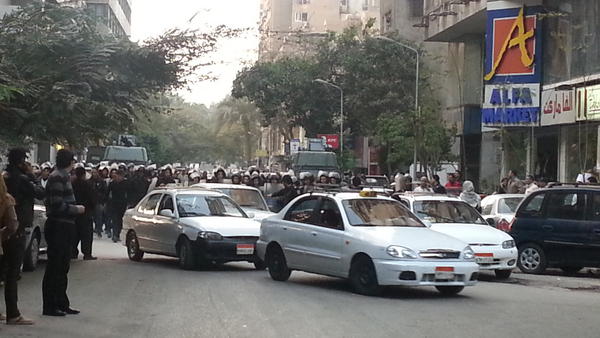 Salafi leader Hazem Salah Abu Ismail has called on his supporters to cancel a planned march on Dokki police station at 7 pm, in an apparent attempt to defuse a confrontation between his supporters and police that had led officers to form a massive phalanx in front of the station by the early afternoon.
News reports on Saturday indicated that supporters of Abu Ismail, also known as the Hazemoun, had attacked the liberal Wafd Party headquarters in Dokki. Police had fired into the air to disperse protesters before gathering in front of the headquarters. Afterward, Wafd chief Al-Sayed al-Badawy blamed the Hazemoun movement for the attack.
The Interior Ministry said Sunday it was pursuing those who behind the attack, but not Abu Ismail.
In a statement, the ministry said it has tracked down the attackers and found them near Abu Ismail's office in Dokki, and denied rumors that it was targeting him personally.
The Hazemoun had gathered in front of Assad Ibn al-Furat Mosque by late afternoon Sunday, where they were reportedly preparing to march on the Dokki police station to protest what Abu Ismail has called "old police practices."
In an Facebook post before calling on his supporters to cancel the march, Abu Ismail had written; "Today at 7 pm, we'll head to the Dokki police station to know what happened," referring to his belief at the time that the Interior Ministry had identified him and his supporters as the perpetrators behind the attacks.
Abu Ismail has denied that he incited the attack in several phone calls to television shows, and threatened to sue whomever tied his name to the incident.
Abu Ismail had emerged as one of the frontrunners for the first presidential vote since the fall of Hosni Mubarak, but the high elections commission barred him from running after it learned that his late mother had a US passport, a status that disqualified him from the race.