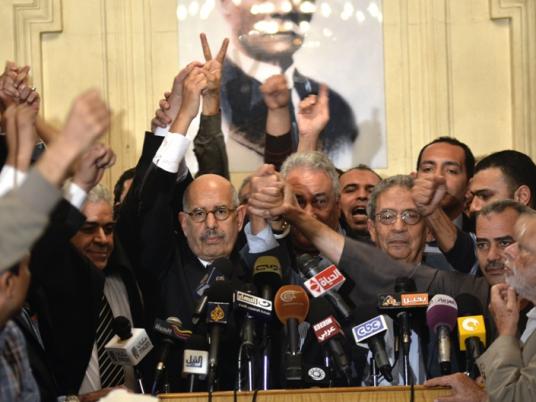 Al-Asqalani, who had filed a report accusing Constitution Party head Mohamed ElBaradei, Popular Current head Hamdeen Sabbahi and former presidential candidate Amr Moussa of attempting to overthrow the regime, has withdrawn his complaint.
Asqalani, a member of the Freedoms Committee at the Lawyers Syndicate, said that he had filed the complaint at the time of the Ettehadeya Presidential Palace clashes that saw several people killed.
He said it was a dark time when Egyptian blood was being shed, and suggested that "everything that has happened may be part of a conspiracy against the country." ‫
The plaintiff stressed that he respects all national forces who seek to uphold the principles of democracy, as he respects President Mohamed Morsy who himself recognizes the opposition and freedom of opinion.
There are four reasons Asqalani withdrew his complaint against the leading members of the National Salvation Front, Asqalani explained, pointing first to freedom of opinion and expression. Secondly, he said, the opposition had played a role in toppling the dictatorship of Hosni Mubarak, and thirdly, that they had helped make President Mohamed Morsy the first legitimate president elected in Egypt's ancient and modern history. Finally, Asqalani said, the opposition represent a safety valve to activate democracy in the new Egypt.
Edited translation from MENA