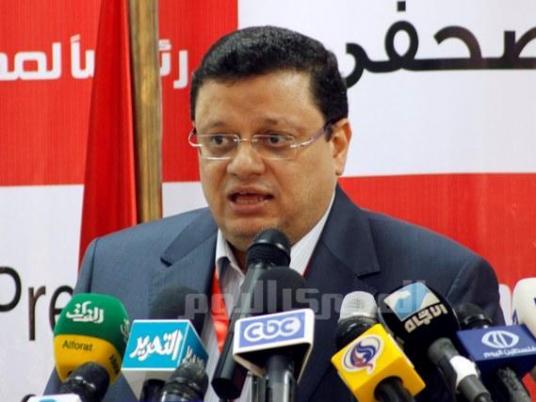 Presidential spokesperson Yasser Ali said Tuesday that the administration is keen to move forward with the national dialogue, adding that opposition figures were contacted Tuesday to discuss the contentious articles in the new Constitution.
Ali stressed that the government believes in the importance of dialogue as a democratic means to overcome crises.
He added in a press conference at the presidential palace that both the executive authority and opposition have to be motivated for the dialogue to succeed, as its failure would not benefit either of them.
There is no dialogue without obstacles or sticking points that need a serious discussion, Ali said. There cannot be full agreement on all issues, he added.
Leading FJP figure Farid Ismail said the national dialogue failed because the National Salvation Front insisted on not participating, and the parties that did participate were not popular enough to have an effect.
Ismail added that some independent figures pulled out after they achieved their political aims, such as appointments to the Shura Council.
The FJP tried to extend the dialogue for weeks, Ismail said. The FJP, he explained hoped to convince the leaders of the National Salvation Front to join and have consensus on some issues, while they insisted on impossible conditions.
Shorouk newspaper quoted on Monday sources close to the administration as saying that the eighth round of the national dialogue would be postponed indefinitely and that there was confusion about the dialogue.
They said that this decision was taken "in anticipation of a wave of withdrawals and suspension of participation by political forces that had participated in the national dialogue since the beginning."
Regard the dialogue, FJP Secretary General Mahmoud Hussein said, "We are not responsible for the failure of the national dialogue. We participated in it like all other political parties and movements."
During an interview with privately-owned Radio Masr, Tuesday, former presidential hopeful Hamdeen Sabbahi said that before oppositional forces take part in the national dialogue sponsored by the presidency, Morsy must apologize for ignoring the opposition.
Sabbahi believes that President Mohamed Morsy ignored all opposition factions when called for a constitutional referendum before reaching a national consensus over the draft.
Edited translation from MENA