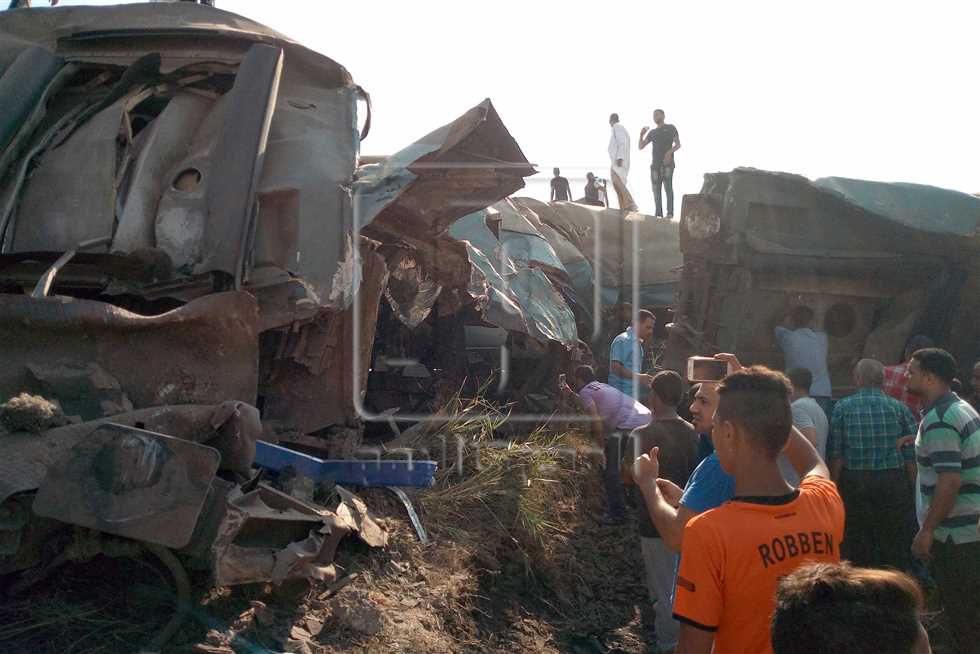 Thirty-six people were killed and at least 123 injured in a train collision in the Khurshid area near Sidi Gaber station in Alexandria, according to the Ministry of Health. The accident took place at 1:30 pm, Friday.
Director of Alexandria Security Major General Mostafa al-Nimr received notification from the Sidi Gaber police station about the collision on the outskirts of the Alexandria Governorate, and immediately dispatched security to the scene.
Security sources, upon inspection of the scene, revealed that the collision was between a train coming from Cairo and another coming from Port Said. They crashed a few kilometers from Sidi Gaber station, when the Port Said train stopped after a sudden failure, leading the Cairo train to crash into it from behind. Coaches were destroyed and derailed in the collision.
Khalid Ibrahim, an eyewitness, said the residents of Ezbet al-Sheikh al-Soghra village rushed to help the victims of the accident to get them out of the wreckage of the train.
The Directorate of Health rushed 30 ambulances to the scene of the accident, which took around half an hour to arrive at the scene.
Undersecretary of the Ministry of Health Magdy Hegazi declared a state of emergency in all Alexandria hospitals, and expects the number of casualties to rise.
Governor of Alexandria Mohamed Sultan arrived at the scene, stressing the accountability of all officials present. Head of the Northern Military Region Major General Adel Ashmawi also inspected the site of the incident.
Further developments to come
Edited translation from Al-Masry Al-Youm