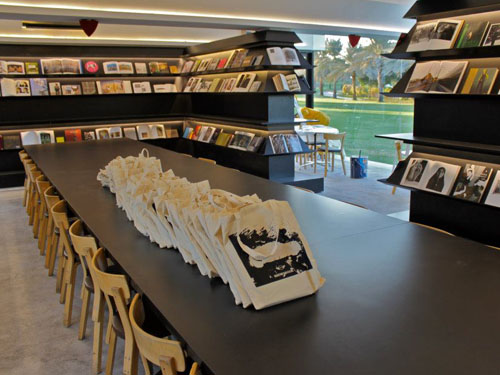 DUBAI — Amid the fast paced changes the city continues to undergo — sand gradually buried beneath pavement, buildings rapidly sprouting like metallic beanstalks across a once near-desolate landscape, and a society expanding and adjusting itself to accommodate a continuous influx of foreign customs, demands and desires — few things in Dubai remain that are older than I am. But the 64 hectares of land, lakes and trees that constitute Safa Park at the heart of the city have remained somewhat unchanged for almost four decades, acting as a refuge to the overworked urban soul after a long workweek.
The most recent addition to this serene space is The Archive, a modest art library housed in a repurposed facilities building. The Archive hosts a specialized collection of Middle Eastern and North African art literature, and is among the first of its kind in the region.
The art scene in the United Arab Emirates has grown slowly and organically over the years. Initiatives by Emirati and expatriate cultural practitioners have seen the establishment of institutions like Barjeel Art Foundation, multi-purpose spaces like Traffic, and galleries like Third Line, all of which support artwork, program events and produce publications that are, in ways both subtle and direct, relevant to the region, and that can inspire engagement with artistic productions and cultural conventions. Such forums, however, are not easily accessible.
The physical layout of Dubai makes it difficult to incorporate any form of pedestrianism into one's lifestyle. Wandering around aimlessly in the hopes of stumbling upon interesting spaces or events is one of the few things the relatively privileged residents of Dubai are deprived of.
In Dubai, one must always have a destination in mind and a route planned. This is especially true of journeys to Al-Quoz, where most of the city's art and cultural spaces are concentrated. In warehouses lining a road nearly impossible to locate without a GPS, the Dubai art scene is bubble wrapped and stored. It is ready to be unpacked, but only by people already enthusiastic and knowledgeable about art, and who have the time and energy to spare scouring social media and lifestyle magazines for intriguing event listings.
With the establishment of The Archive, however, new possibilities arise. Founders Ahmed and Rashid Bin Shabib, Emirati brothers known for such projects as Brownbook Magazine, developed the idea behind the space a mere six months ago. Through their various initiatives they are attempting to dispel negative stereotypes about the Middle East by highlighting the region's diverse artistic practices, literary contributions and lifestyle trends, explains Sarah Malki, The Archive librarian and program manager.
The books on display at The Archive cover topics such as art history, fine arts, fashion, typography, calligraphy and architecture. They were handpicked, and a large segment of the collection was curated by London-based Koenig Books. The library currently houses 500 works and is looking to expand its collection to around 2,500.
Aside from housing regional art literature, The Archive will also program events such as film screenings and artist talks that will hopefully not only draw art enthusiasts from around the city, but curious spectators from within the park. For the founders, The Archive is an important initiative because it is accessible to the general public. It provides a service to the likes of researchers, art enthusiasts and students, catering to a niche crowd desirous of specialized texts, but at the same time it has a significant educational role to play within the wider community.
A graphic design student might visit The Archive in search of the Khatt Foundation's "Typographic Matchmaking in the City," an illustrated account of a design research project that examined new methods for using bilingual lettering and weaving poetic narratives into public spaces. While this book is unlikely to appeal to an individual without a design background, an aspiring typographer has a lot to learn from this niche text's observations on the differences and commonalities between Latin and Arabic scripts, and on the myriad ways of employing typographic design in public urban spaces.
Alternatively, a teenager fresh off a football pitch might wander in for a glass of water and notice the pacific cover of Lebanese photographer Ziad Antar's "Portrait of a Territory," one of several English-Arabic publications on display in The Archive. A few spontaneous minutes of flipping through the book's 267 photographs of the UAE coastline provide a glimpse into an alternative perspective on the over-discussed Gulf economic boom and its consequences.
The Archive thus has the potential to bridge the gap between the exclusive art crowd and the population at large, inviting them to meet, engage with and learn from one another within the nurturing space of the park.
"So far we have gotten a really positive response from the community," says Malki. "It has only been one week since we opened and people are absolutely ecstatic about it and want to be involved in every way possible." She explains that The Archive cannot really be compared to any other space in Dubai or even the wider MENA region. "Do you know of any other space that serves as a library, a café and a park all at the same time?"
Visits to most other art and culture venues in Dubai are usually driven by a desire to attend a specific event or engage in a particular activity. However, when it comes to the The Archive, as Malki points out, "you can literally spend the entire day working on your laptop, reading a book, taking part in a workshop, enjoying a fresh juice, having brunch or signing up for a yoga class."
Unlike the art and cultural spaces of Al-Quoz, The Archive has intervened in a communal space that plays host to a diversity of people. Park visitors are invited to wander in, perhaps drawn to the smell of freshly brewed coffee, a seductive book cover, or the very presence of this unusual structure in the heart of the park. Inside, their eyes might brush against a line of art theory or photos of the region's lesser known corners and faces might facilitate a re-experiencing of the environment these visitors inhabit, and they will, perhaps, opt to reread or even explore for the first time the history of the Middle East through the lens of its long and multifaceted tradition of artistic and cultural practice.