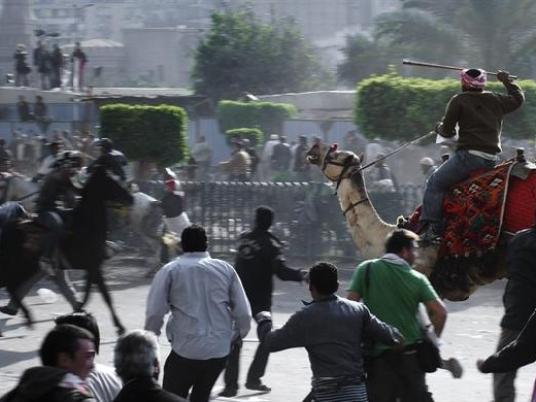 The Muslim Brotherhood and its political arm, the Freedom and Justice Party , issued a statement denying the existence of the "Brotherhood Group 95," an entity that has been accused of committing acts of violence during the 25 January revolution.
President Mohamed Morsy's fact-finding committee investigating the deaths of protesters during the revolution issued a report recommending the president open investigations into the group.
Complaints submitted to the committee accused Youth Minister Osama Yassin of leading the group in its deadly mission of killing protesters, citing an interview Yassin gave to the Qatar-based Al Jazeera in 2011 as evidence.
In the interview, Yassin claimed he accompanied a group of youth onto rooftops to prevent stones from being thrown at revolutionaries. Other testimonies have alleged that Brotherhood members were standing on roofs overlooking Tahrir Square, though it is unclear what role they played in the violent clashes, if any.
FJP Deputy Secretary General Amr Zaki told Al-Masry Al-Youm that the group's youth went to those rooftops during the Battle of the Camel on 28 January to protect demonstrators.
Former group member Haytham Abou Khalil said the Brotherhood has formed groups of "strong youth" to protect the movement's leaders and female members.
High-ranking judicial sources said Prosecutor General Talaat Abdallah received the committee's report and its attachments on Thursday. The report includes all the evidence the committee has compiled since its formation on 30 September.
A source from the prosecutor's office said Abdallah and Hassan Yassin, the prosecution office's spokesperson, would review the report soon, and that Abdallah would personally follow up on the investigations.
Edited translation from Al-Masry Al-Youm