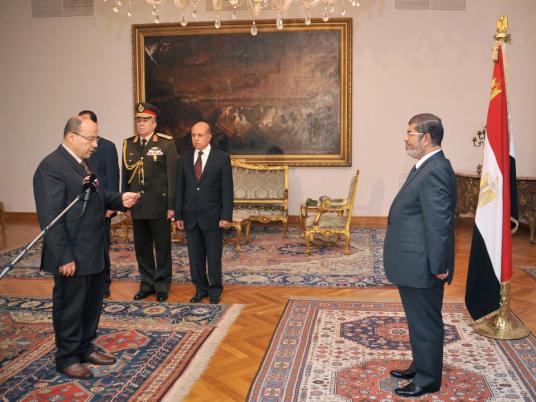 The Muslim Brotherhood has called on the Supreme Judicial Council to reject Prosecutor General Talaat Abdallah's resignation, and to denounce prosecutors for assaulting him.
The council has said it would decide whether or not to accept Abdallah's resignation on Sunday.
President Mohamed Morsy had appointed Abdallah in late November to secede former Prosecutor General Abdel Meguid Mahmoud, a move that sparked outrage in the judiciary.
Abdallah announced his resignation on Monday after prosecutors had demonstrated outside his office demanding that he leave his position.
Protesters were decrying Abdallah's recent decision to transfer prosecutor Mostafa Khater, who was investigating the violent clashes that occurred outside the presidential palace two weeks ago, to Beni Suef. Abdallah then reversed his decision.
In a statement issued on Monday, the Brotherhood said the prosecutors forced Abdallah to resign with threats, something that was unprecedented in the history of the judiciary. The called it a violation of the judiciary's independence, dignity, immunity and freedom.
The Brotherhood also claimed on its Facebook page on Tuesday that some demonstrators demanding Abdallah's resignation had carried weapons. They demanded those protesters be investigated and punished.
The group also urged the Interior Ministry to protect judges from aggression.
Edited translation from Al-Masry Al-Youm