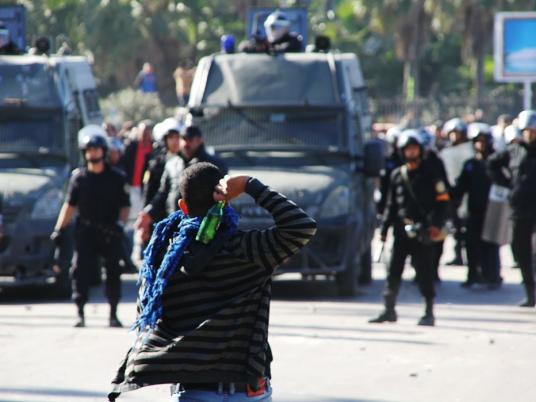 The area outside the Alexandria's Criminal Court was calm Monday, after Sunday's clashes between security and demonstrators during a court session in the trial against police officers accused of killing protesters during the 2011 uprising.
The clashes, which spread to the area around Al-Qaed Ibrahim Mosque and the Italian Consulate, continued into the night after judges adjourned the case, saying they were unable to continue the session after fights erupted inside the courtroom between defense lawyers and plaintiffs, according to state-run news agency MENA.
Security forces were deployed outside of the court building on Monday. Protesters had started several fires at the building, which Civil Defense forces extinguished. Protesters also set three police on fire Sunday and assaulted a court security guard and stole his gun.
Police had fired tear gas to disperse protesters and arrested 10 people. Court documents were seen strewn around the streets as protesters began to disperse.
Several security officials have been acquitted on charges of killing protesters during the revolution that toppled former President Hosni Mubarak. A fact-finding committee formed by President Mohamed Morsy to reopen investigations into the killings has finished a report believed to provide new evidence against some of the acquitted defendants.
Edited translation from Al-Masry Al-Youm