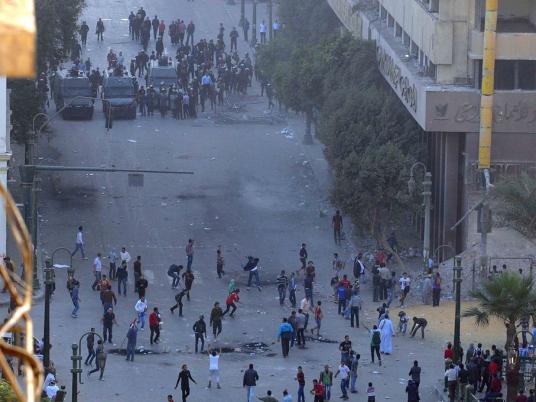 Clashes between protesters and security forces resumed Saturday around Tahrir Square, particularly on Mohamed Mahmoud and Qasr al-Aini Streets, after a brief respite in the early morning hours.
Security forces fired teargas canisters at protesters gathered on Youssef al-Guindi street off of the square. Dozens of protesters suffered breathing problems from the teargas as a result.
The teargas reached Tahrir Square and Falaki Street, forming a cloud over the area.
In the square itself, however, a period of calm prevailed. All entrances to the square were closed for the second consecutive day after protesters converged Friday to protest President Mohamed Morsy's constitutional declaration Thursday granting himself broad powers.
Some protesters split off from Tahrir and hurled stones at security forces on Mohamed Mahmoud street. Security forces responded with an intensified barrage of teargas, forcing protesters to retreat.
Mahmoud Said, head of the emergency and reception department at Mounira Public Hospital, said the hospital received 32 cases stemming from the clashes, with five people in critical condition from gunshot wounds.
Members of some popular committees were seen at the entrances to the square preventing vehicles from passing through after teargas fumes began to reach protesters gathered there.
More than 20 tents of various political and activist groups that called for the Friday protest were also set up in the square.