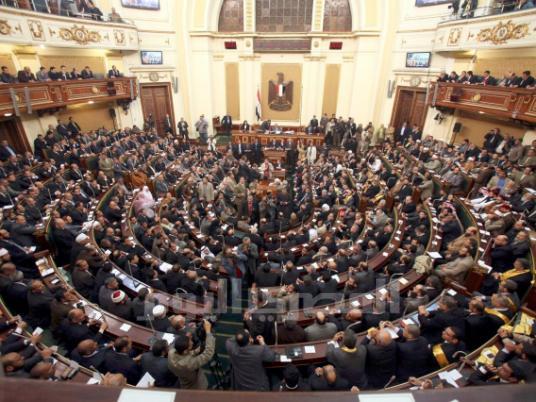 The Supreme Constitutional Court decided Saturday it will not review a request by the ruling military council to review a draft amendment to the political rights law that would isolate regime figures.
The People's Assembly approved the draft amendment earlier this month, and the Supreme Council of the Armed Forces referred it to the court on Thursday.
The proposed amendment originally targeted presidential hopeful Omar Suleiman, who served as spy chief and vice president under ex-President Hosni Mubarak. But after the Presidential Elections Commission disqualified him from the race, it would now target Ahmed Shafiq, who served as Mubarak's prime minister and is also running for president in the May election.
The court said Article 28 of the Constitutional Declaration, enacted in March 2011, states that the Supreme Constitutional Court should only review the amendment that organizes the presidential election, so extending its tasks to reviewing amendments without a clear text violates the article.
The newspaper of the Muslim Brotherhood's Freedom and Justice Party, which bears the same name, reported that according to the ruling, if the SCAF declines the draft law, the People's Assembly will be authorized to pass the law if one-third of its members approve.
With the amendments, the proposed law would strip the political rights of anyone who served as vice president or prime minister under Mubarak during the 10-year period before he resigned on 11 February 2011. This would also apply to anyone who served as president or secretary general of Mubarak's now-dissolved National Democratic Party or as members in its general or policy secretariats.
Mahmoud al-Khodeiry, head of the People's Assembly Constitutional and Legislative Affairs Committee, said that now the draft law has been returned to the SCAF it should issue it swiftly, and any delay would be unreasonable and prove that the SCAF wants a particular candidate to stay in the race.
MPs were divided over the law's legitimacy. Some stressed its importance for banning Mubarak regime remnants from running for president, while others said it targets specific candidates, considering it a technique similar to those used by the old regime itself.
MP Mostafa Bakry said the court's ruling is procedural and that it doesn't mean the draft law is unconstitutional.
Translated from Al-Masry Al-Youm