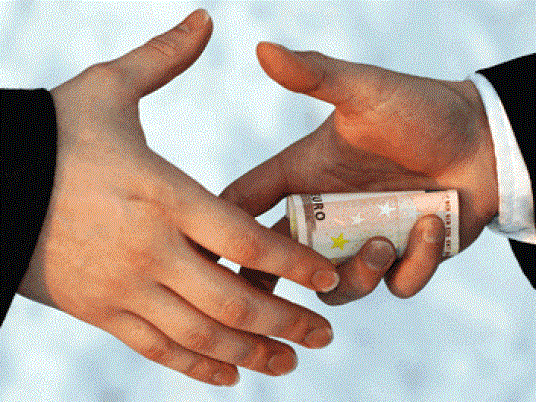 The State Council's purchasing manager, Gamal al-Labban, and two other suspects were detained on Thursday for 15 days pending investigation into huge bribery charges, by order of an Al-Salam Misdemeanors Court judge, Youm7 reported.
The Administrative Control Authority's (ACA) officers arrested the defendants on Tuesday and seized bribes estimated at LE150 million from Labban's house.
During the house search, the officers seized LE24 million, US$4 million, €2 million euros, and one million Saudi Riyal, in addition to gold jewelry.
The ACA is examining the suspect's current liquid, real estate and other properties and comparing it with his financial disclosure statement, which he filed when he joined the public post.
The prosecution is awaiting the experts reports about the real estate; and the cash money and gold jewelery which has been seized.
Prior to his arrest, the ACA received the permission from the supreme state security prosecution to watch the purchasing manager, based on information it had received about suspicious operations performed over a month ago.
The suspect's movements were monitored and recorded in both audio and video, before getting permission to arrest him. He was alledgedly caught in the act of bribery.
A state of confusion prevailed inside the State Council after the announcement of the arrest.
According to sources within the Council, the rumors go that the investigation may extend to include other employees in the Council.
The sources pointed out that the General Secretariat of the State Council collaborated with the ACA officials to arrest the suspect.
The sources added that the suspect was known for trading in foreign currency recently, and that the Illicit Gains Authority will conduct extensive investigations on him for exploitation influence.
The ACA is also examining the suspect's relationships and dealings since he joined the State Council.
The ACA is collecting information on all those linked to the suspect inside and outside the Council, after he received large bribes from one of the private entities to assign supplies work to certain companies.
Investigations have so far confirmed the validity of the information and the crime has been documented between him and the other suspects currently under investigation.