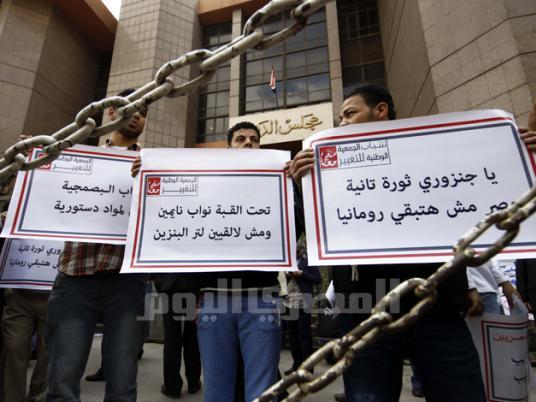 The controversy over the constituent assembly saw fresh developments Tuesday after an Egyptian court set a date to rule on the validity of the assembly, as the Supreme Council of Armed Forces stepped in to meet with party leaders to discuss the assembly.
The State Council's Administrative Court set 10 April as the date to rule on lawsuits challenging the validity of the constituent assembly.
In their lawsuits, the plaintiffs said the assembly does not represent all of Egyptian society and violates the norms for writing a true constitution, as it was dominated by the Muslim Brotherhood's Freedom and Justice Party and the Salafi-led Nour Party.
They also said women and Coptic Christians are not represented in the assembly, and called for forming another assembly entirely from outside both houses of Parliament in order to preserve a balance of power for the next constitution to truly express the wishes of all Egyptians.
The session witnessed scuffles between supporters and opponents of the assembly, while hundreds of people gathered outside the State Council to denounce it.
Meanwhile, the state-run Middle East News Agency said that Field Marshal Hussein Tantawi, head of the SCAF, met with the leaders of 18 political parties and two members of Parliament on Tuesday to discuss the latest political developments.
The agency said the meeting sought to reach a consensus over the controversial assembly.
Chief of Staff Sami Anan and other SCAF members were present in the meeting, which was also attended by Mohamed Morsy, president of the Freedom and Justice Party, Al-Sayed al-Badawy, president of the Wafd Party, Emad Abdel Ghafour, president of the Nour Party, Mostafa al-Naggar, president of the Adl Party, Hossam Badrawi, president of the Itihad Party, Anwar Sadat, president of the Asala Party, along with MPs Mostafa Bakry and Marianne Malak.