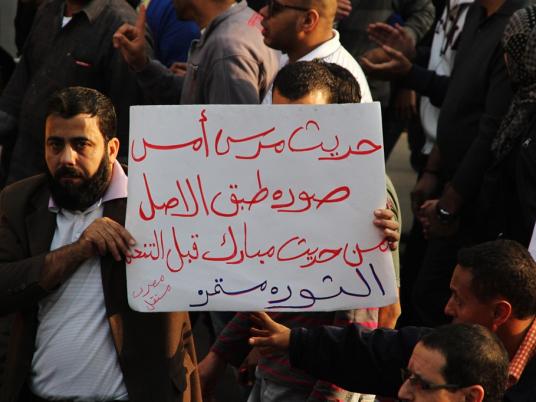 Dozens protested outside the Al-Qaed Ibrahim Mosque in Alexandria after Friday prayers, accusing the Muslim Brotherhood and the Salafi Da'wa of marring the results of the constitutional referendum.
The protesters demanded the cancellation of the Constitution, which they claimed "divides Egypt politically and geographically."
"The people want to bring down the Brotherhood," "Down with the supreme guide rule," and "Sell the revolution Oh Badei," they chanted. Some raised banners that read, "The Brotherhood hijacked my revolution," "The revolution continues" and "We reject the Constitution that divides Egypt."
Sheikh Ahmed al-Mahalawy, the preacher at the Al-Qaed Ibrahim Mosque, did not deliver the sermon on Friday, following violent attacks on him by protesters who accused him of using the mosque as a platform for political aims.
A popular group in Alexandria formed against the "Brotherhoodization" of Egypt has filed several complaints with the Ministry of Endowments, demanding that Mahalawy be barred from delivering Friday sermons.
Last Friday witnessed violent clashes with bladed weapons and stones between opponents to the new Constitution and Islamists who staged a protest outside the mosque. The clashes left 68 wounded, and a number of cars were burned.
Edited translation from Al-Masry Al-Youm