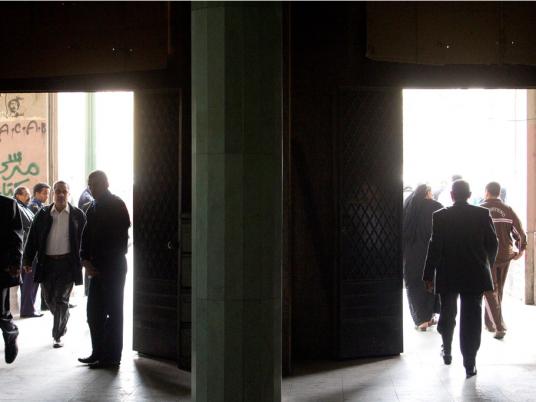 Dozens of protesters in Tahrir Square on Sunday shut down the Mugamma as part of protests against President Mohamed Morsy's call for parliamentary elections in April.
Fights broke out between protesters and Mugamma employees, with citizens trying to access services also getting involved. Mugamma security did not attempt to stop the protests.
Speakers on the main stage set up at Tahrir called on the protesters blocking the Mugamma to also block tracks at the Sadat metro station.
Ultras Ahlawy members, meanwhile, sprayed graffiti on buildings and put up posters inside the metro station saying, "9 March is the police's turn," "Those who died, died for us to live freely" and "When I let go of his right [the martyr's], I'll be dead indeed," referring to the sentencing session for police defendants in the Port Said football violence trial.
A group of retired military veterans also distributed leaflets urging Egyptians to protest Monday in front of the Tomb of the Unknown Soldier in Nasr City against what it described as Brotherhood attempts to take over state institutions.
Morsy has announced that elections of the lower house of parliament, the House of Representatives, will take place in four stages at the end of April and beginning of May, amid criticism and calls for boycott by opposition forces. Critics have complained about unfair seat distribution among governorates and the absence of guarantees for an impartial vote.
Edited translation from Al-Masry Al-Youm