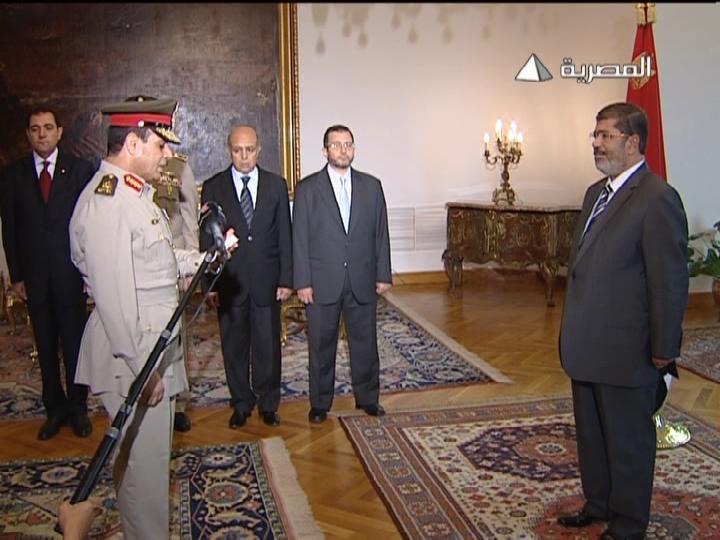 The head of the Egyptian military called for a "national dialogue" to be held on Wednesday in an attempt to resolve the political crisis gripping the Arab world's most populous country, a military source said.
"Defense Minister Abdel Fattah al-Sisi is calling for all sections of the people to convene a national dialogue at the Olympic Village tomorrow," the military source told Reuters.
According to an official Armed Forces Facebook page, Sisi called for a number of actors to attend the meeting, including figures from the Cabinet, the political elite, national and political forces, revolutionary youth, Al-Azhar and the church, the Judges Club and the Supreme Constitutional Court. He also called on lawyers, journalists, artists, athletes, workers and peasants to attend out of love for Egypt and in order to preserve national cohesion.
Yet the state-owned news agency MENA and Al Jazeera quoted Ahmed Ali, the military spokesperson, as denying that any such meeting had been called for.
Meanwhile, television channel CBC quoted a military source as saying the meeting is not for national dialogue but rather for "societal dialogue."
Morsy has approved the army call for national unity, according to comments made by Refa'a al-Tahtawy, Morsy's presidential chief of staff, to Al Jazeera television.
The Muslim Brotherhood said it would attend unity talks on Wednesday called for by the army to end a political crisis in the nation.
"It is clear the invitation is from the army with the permission of the president. If anyone is invited, I don't think it is appropriate that they stay away," Brotherhood spokesperson Mahmoud Ghozlan told Reuters, confirming the presence of the Brotherhood at the meeting.
The main opposition coalition, the National Salvation Front, said that it had not yet received an invitation from the army, indicating that it would decide whether to attend at a meeting on Wednesday morning.
Hamdeen Sabbahi, a leading figure in the front, said, "The Egyptian army is a great army and highly valued among all Egyptians. We respect it and its efforts, but if this invitation does not have a clear agenda then we are afraid it will be a public relations exercise and so there would not be any value in attending."
Amr Moussa, also a leading figure in the front, meanwhile welcomed the defense minister's initiative. Speaking to Andalou News, he described it as positive. "The military is a main institution of the state and is dismayed by the current situation," he said, before casting doubts on speculation that the Armed Forces would intervene.