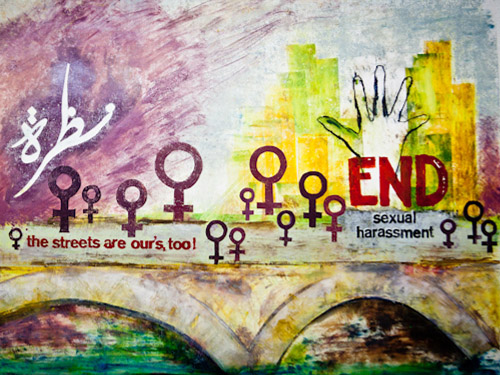 Sexual harassment has been a long-standing problem in Egypt. But since the street protests broke out last year, women have started to come out of their silence.
In support of the movement, Darb 1718 art space, along with the sexual harassment reporting and mapping group HarassMap, organized "Enough." Through the group exhibition and month-long program of performances and concerts, they hope to raise awareness about the topic, hoping that it "will make other people speak about it, as it remains a taboo," says "Enough" organizer Reem Hatem.
As visitors enter the gallery, a colorful painting with slogans against sexual harassment immediately catches their attention, bringing to mind the anti-harassment graffiti campaign launched by artists in Cairo over the past year.
Since a demonstration to celebrate International Women's Day in Cairo was attacked in early March 2011, several art campaigns have been launched to raise awareness of the topic. NooNeswa group, for example, launched "Graffiti Harimi" ("Female Graffiti") in March 2012, hoping to break social taboos through graffiti and allowing women to reclaim public spaces.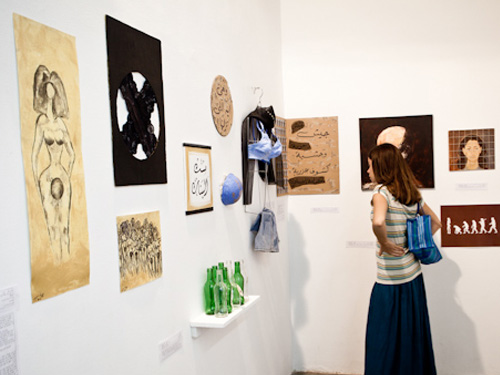 In the middle of the next room, a dirty, long dress hangs from the ceiling. Visitors are forced to skirt around it to see the artwork lining the walls, in the same way that many people skirt around sexual harassment incidents as if nothing had happened, increasing the pressure on victims.
To express these feelings of entrapment, artist Amira Paree painted the face of a woman looking solemn from behind a fence. In another piece, she hangs a blue bra, visible under a piece of black cloth, to pay tribute to the woman famously assaulted by military soldiers last December.
Artist Norhan Alaa takes a different approach, attempting to empower victims of sexual harassment by vocalizing their suffering. Next to a female mannequin with nails pinned to her body, she has set up a screen featuring quotes from women who have experienced sexual harassment.
This quote reads: "The first time I was sexually harassed, I was in 8th grade. I was terrified and I couldn't defend myself."
Islam Ayyad and Nahla Sebaei created a photo montage print series showing burns on naked female bodies. Sebaei believes efforts should be made to raise awareness on the topic through media campaigns and education. But art can also have a role. "Our idea is to shock the audience. [A controversial work] can attract people, and make them think and react," she says.
Although this artwork is among the most powerful in "Enough," repeated criticism and accusations of indecency have led to photographs of the work being removed from the Darb 1718 Facebook page.
Filmmaker Neveen Shalaby shows her documentary "Guilty or Not Guilty" looped on a small screen. The film, about a sexually frustrated young man who does not have a job, explores the social problems Egyptian men face. She hopes that her ongoing film series will encourage both the harassers and victims to talk about what is happening.
Among the campaigns on sexual harassment organized during the last few weeks, "Enough" is surely one of the most artistic. But it might also be less effective than those taking place in public places, reaching a wider public.
Artists participating in "Enough" are aware of that. They are considering organizing a workshop to create artwork that would be exhibited around the city.
They know the issue is a big one, and there are no easy answers. Through "Enough," they are not trying to offer a solution. Rather, they are trying to highlight the issue and create a discussion around it. From there, the options are endless.
"Enough" can be seen until 20 August at Darb 1718; Qasr al-Sham Street, Fakhareen, Old Cairo.
This piece was originally published in Egypt Independent's weekly print edition.