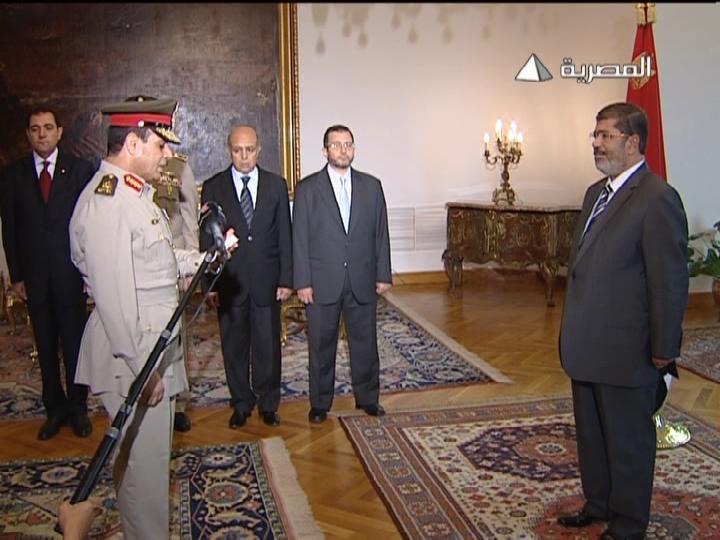 President Mohamed Morsy's decision to authorize Defense Minister Abdel Fattah al-Sisi to mobilize army troops raised suspicions that he may be slowly handing back power to the new coterie of military generals.
Experts, however, say it is normal in light of the escalating Israeli aggression against neighboring Gaza and the possibility of a spillover effect on Egypt's borders.
US Secretary of State Hillary Clinton announced a ceasefire Wednesday evening after meeting with Morsy in Cairo to discuss the situation in Gaza. Clinton was coming from Israel where she met Prime Minister Benjamin Netanyahu.
Although denied by military sources, Morsy's decision 356/2012 was published in the official newspaper on 17 November, delegating his authority to mobilize troops, based on Law 87/1960, to the defense minister for one year.
Tarek Fahmy, an expert in security studies, tells Egypt Independent the move does not translate into Morsy relinquishing power to the military generals, adding that it is a routine decision in light of "news of a possible ground assault by the Israeli forces" in Gaza.
Ousted President Hosni Mubarak took a similar decision in 2010, as reported in several media sources, but without specifying the reasons. In November 2011, the Supreme Council of Armed Forces (SCAF) delegated its former head, Field Marshall Hussein Tantawi with the authority to declare war and mobilize army troops.
Morsy sent Tantawi and the army's chief of staff Sami Anan to retirement in August and cancelled an addendum to a constitutional declaration that granted the military wide executive and legislative powers.
The president's contentious move was highly debated, but widely perceived as a way of taking back power from the then-ruling military council, and more critically so from Egypt's first civilian president.
While it was seen by some as a historic shift in the relationship between civilians and the military junta in power for almost 60 years, others saw it as a mere cosmetic change.
Former general Safwat El-Zayyat says the timing of this week's decision signals a significant political statement given the concern of a wide ground assault on Gaza that may extend to Area C between the Israeli and Egyptian borders.
According to the Camp David Accords, Israeli forces are not allowed any access to Area D.
IDF sources have repeatedly confirmed in media reports that a possible ground assault would be wider than the 2008 operation, Cast Lead, which may translate, according to Zayyat, to a possible attack against Karm Abu Salem crossing and the adjacent Philadelphi route.
"Egypt needs to be ready and assigning Sisi this mission is necessary because if Israel attacks Egyptian land, it is easier for the defense minister to carry out this," he adds.
Morsy still reserves the authority to declare war, which is wholly different from mobilizing troops, Zayyat says.