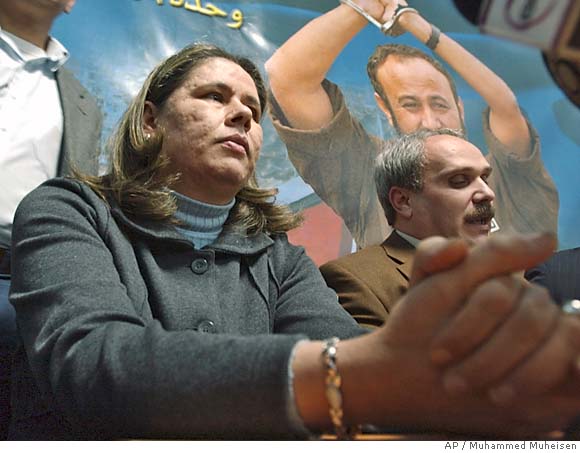 RAMALLAH — The wife of the most famous Palestinian prisoner and the man many believe could one day negotiate a peace deal with Israel says that nearly a decade in prison has "deepened" Marwan Barghouti, the 52-year-old Fatah leader who was one of the driving forces of the Second Intifada.
During a recent interview with Egypt Independent, in her office overlooking Palestinian leader Yasser Arafat's tomb, Fadwa Barghouti, 47, says he spends seven to 12 hours a day reading newspapers and books. She is a personable lawyer and mother of four who has campaigned in 50 countries for her husband's release.
"He always read books, but in prison he has devoted all his time to reading. He has read literature, poetry, politics, economics and women's studies, as well as books about Margaret Thatcher and Bill Clinton, about how other peoples achieved their freedom and about democracy," she says.
"He has read a great deal about Israeli society and a great deal in Hebrew. Some Israelis who visited him were surprised to find he is reading new books published in Israel," she adds.
Just as Marwan Barghouti is interested in Israel, the Israeli left is interested in him, recalling fondly the initial years after the 1993 Oslo Agreement, when he was a major supporter of the pact, sealed with a handshake on the White House lawn between former Palestinian leader Yasser Arafat and Yitzhak Rabin, the assassinated Israeli premier.
Last March, a leading Israeli author, Amos Oz, sent Marwan Barghouti the Arabic translation of his latest book, "A Tale of Love and Darkness," with the inscription, "Hoping to meet you soon in peace and freedom."
But to Fadwa Barghouti's tremendous dismay, her husband, who has at times been touted as the successor to Mahmoud Abbas as Palestinian president, will have more time to read and study. He is currently serving five life terms plus 40 years in Hadarim Prison after being convicted of responsibility for attacks that left four Israelis and a Greek monk dead.
Marwan Barghouti was not included in the Egyptian-brokered swap between Israel and Hamas in which captured Israeli soldier Gilad Shalit was released in exchange for 477 Palestinian prisoners last month. An additional 550 Palestinian prisoners, to be chosen by Israel, are set to be freed next month.
"I felt disappointed because Hamas and Egyptian representatives promised me personally that Marwan would be part of the deal and that they would not accept any deal that did not include Marwan's release," she says.
In Fadwa Barghouti's view, Israel's refusal to release her husband shows it is not interested in a real reconciliation with the Palestinian people. "If Israel really wants to make peace, the time to release Marwan is now, so that he can help Abu Mazen [another name for Abbas] in making genuine peace."
When asked if she hopes her husband will one day become Abbas's successor, Fadwa Barghouti responds that above all else, "what I want is for him to come home. He left four young children, and now they are old. All of them have graduated from university. Some of them will get married while their father is away and they cannot visit him or get his advice."
One son, Sharaf, recently moved to Britain to pursue a master's degree in business administration at Manchester Metropolitan University. Due to Israeli restrictions, he has not seen his father in two years, but Barghouti penned a letter of advice to him before his departure, urging him to "not only study for the certificate, but also to learn the values of British society," Fadwa Barghouti says. "He advised him to not only spend time with Arabs and Palestinians who speak his language but to mix with people from different nationalities and countries."
It is far from the first time that the couple's relationship has been circumscribed by his imprisonment. "When I was 14 and he was 19 there was some sort of relationship between us. Then, when he went to jail, he started sending me letters. He spent four and a half years in prison, and throughout he was sending me letters. Six months before his release, his family asked for my hand and we married," she recalls.
"We suffered a lot. I gave birth to four children, and Marwan was always in jail, out of jail, and back in jail. Twenty-six years ago, when Qassam was born, Marwan was in jail. When Ruba was born, he was wanted. He could not visit me in the hospital. When Sharaf was born, he was in Jordan because he had been expelled by Israel. He was also in Jordan when Arab was born.
"You can imagine how difficult it was — when the children graduated, always their father was absent," she says.
Still, Fadwa Barghouti gives the impression her husband is making the most out of his imprisonment. She proudly shows off a book she says is a doctoral dissertation, which allowed him to earn a doctorate through the Arab League-affiliated Arab Institute for Study and Research in Cairo. The dissertation is about the "legislative performance" of the Palestinian Legislative Council, of which he is still at least formally a member. "He finished it last year. He wrote the text in prison and smuggled it to us page after page, subject after subject," she says.
Fadwa Barghouti claims that a free Marwan Barghouti would be an advocate of pluralism. "He wants a society based upon freedom and human rights, with no corruption. He's very anti-corruption; this is the most troublesome issue for him.''
Regarding Israel, he supports eventual normalization conditionally, she says. "If we have a state with clear borders that is really independent, Marwan will support a normal relationship with all neighbors, including Israel."
However, she stresses, while the West Bank is still occupied, Marwan Barghouti backs "popular resistance" like the current unarmed demonstrations against Israel's separation barrier, which sometimes entail stone throwing at Israeli security forces.
In Israel, dovish opposition lawmaker Amir Peretz has called for Marwan Barghouti's release, echoing Fadma Barghouti's assessment that such a move would strengthen Fatah and enable the development of a peace deal. But an Israeli official, who requested anonymity, claims that his release is not being considered.
"I understand that his wife wants him released, but what about the wives, husbands, parents and children of his numerous victims?" the official says.