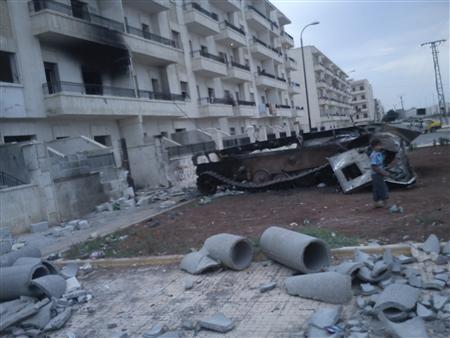 ALEPPO — The winter season is upon us. At 4:30 pm, the streets are already shrouded in a darkness broken only by falling drops of rain and the flashing lights of passing cars.
Scuffles and shouting can be heard near a bakery where hundreds line up under the storm for bread. Mainly men and children, they have been waiting for hours, and continue to wait until nightfall.
Rebels have been fighting against President Bashar al-Assad's regime for 21 months now, and this is the second harsh winter Syrians have had to endure under increasingly dire conditions.
According to the United Nations, 60,000 have been killed since the onset of the revolution, with more and more citizens leaving their homes for safer places in Syria, or for refugee camps in neighboring Turkey, Jordan or Lebanon.
Away from the front lines, the main concerns of citizens remain focused on providing food and warm shelter for their families.
Some have time to plan their departure, but for others, it's a sudden dash away from a fresh flashpoint area. Such was the case with Ahmed and Wessal al-Omar, 25 and 23 years old.
"We live in Karm al-Tarrab, close to Aleppo airport. The Free Syrian Army warned us that the area would start getting dangerous as the fighting with [Assad's] army inside the airport intensified. We left right away," says Ahmed. "Three days later, I came back to find the house totally destroyed, bombed by an MiG fighter jet. We were lucky to not be there."
Ahmed, Wessal and their two children moved into a school in south Aleppo a few months ago, where they occupy one classroom.
"We should have been five — I was pregnant when we arrived to the school five months ago, but a month after I gave birth, the baby died due to lack of oxygen. Hospitals were unable to give him the appropriate medical care," says Wessal.
To earn some money, Ahmed collects plastics from the rubbish near the school to resell. Sometimes he earns 100 Syrian pounds, which can be the price of one kilogram worth of bread.
On other days, he makes nothing. Either way, it's not nearly enough to provide for his small family.
Given these conditions, Ahmed is not very happy with the revolution.
"At least before, we had a home and jobs — now we have nothing," says Ahmed.
Five other families live in the school, also residing in classrooms, and have lived without any electricity or warm water for two weeks. They only have each other to look to for support.
"Families here are like a real community. They have to help each other. None of us have anywhere else to go. We don't have passports or money to go to Turkey, and wouldn't feel comfortable living in a refugee camp," says Rabiaa Mohamed, a 35-year-old who lives in one of the classrooms with only her husband.
Other families have up to four children. Fearing a possible sudden attack or shelling, the parents don't allow their children to go any further than the school. The older kids help with the cleaning, washing and food, while the younger ones have nothing to keep them entertained, save for running around in their flip-flops on the muddy, cold ground.
At night, the families sometimes have dinner together or gather for tea in a room lit only by the dim glow of a petrol lamp and a small stove to keep things warm. They discuss the bombings, conjecture about Assad's fall and, for those who manage to find work, talk about the day's labor.
When it's time to sleep, the parents don't have many choices to keep their children warm at night, except to leave them the heaviest blankets and suffer the cold themselves.
Late at night and early in the morning, noises from the heavy shelling no longer wake them up. They've become accustomed to the sounds of war.
At the first sign of daybreak, Ahmed wakes up to get ready for work and buy breakfast for the children. Wrapping his face in a scarf to fend off the smell of the rubbish, he goes rummaging for plastic bottles. Meanwhile, Wessal wakes up with the children and cleans the classroom.
"We just hope this war is over soon — we are tired," says Ahmed.
Not far from the school is the old city of Aleppo, classified as a UNESCO World Heritage Site. But since it has become a front line between the FSA and Assad's forces, Old Aleppo is now almost completely destroyed.
Just 500 meters from the front line is the entrance of the old city, where there is a market for vegetables, fruits and sandwiches. Life seems as normal as can be in the clamor of the fighting, but the market is much more barren than before.
"Two years ago, life in Old Aleppo was comfortable…but now it's very dangerous, the streets are empty and there's no work," says Abdel Rahman Kadh, who used to work as an electrician there.
Kadh is now living in a former curtain shop in the old city. Five months ago, his house was partly destroyed in the shelling, and he was forced to leave with his wife and two children.
Most of those living in the old city reside in houses that have been in their families for years, passed down from their parents or grandparents. When they're in need of money or food, they ask richer relatives or friends for help.
"All we want is to have a job and a safe life, whether it's Bashar [Assad] or not," says Kadh.
The effects of the war can be heard and felt throughout the old city. Without basic utilities, civilians are reaching a breaking point. Added to this, they are fed up with the sight of armed men in the streets.
Aliaa Maktbee lives in a house near the market with her four children, but never lets them roam around.
"The FSA scare the children with their guns. I'm very sad about what has happened to Aleppo. It was such a nice city," she says.
Civilians do not have much contact with the FSA, and as a result, blame them for making the area unsafe as they are the main target of the bombings by Assad's forces.
Due to this lack of communication, the residents don't realize that these groups are actually members of Jabhit al-Nusra, a brigade of Islamist fighters. A while back, these fighters exchanged positions with FSA members who used to be stationed at the old city, but have since had to relocate to different conflict points.
In the villages of north Aleppo, civilian councils were created to organize the daily life of citizens. The oldest and most respected are chosen to be on the councils, which are responsible for setting up schools, bread distribution, electricity, pipe work and even local policing.
Khaled Adal, from the village of Azaz, is responsible for bread distribution.
"Every three days, I give 15 rounds of bread to every family living in my area. We have a book with the names of members from each family so we know how much bread they should get," he explains.
Adal provides a vital service since bakeries have been repeatedly targeted by MiG fighter aircraft, killing and injuring dozens as they lined up for hours amid a bread crisis. The idea is to decrease the risk of casualties in case of shelling by having one man take bread to several families.
Clean water is a constant problem.
"We use rainwater for washing as well as drinking. Some children are now suffering diarrhea because of this," says Gadha Kano, a mother of eight children from Azaz.
Further south, we arrive at Marea, where trees used to line the main road leading into the village. Today, only their trunks remain as villagers had no choice but to tear down the branches to make fire.
Hossam Abu Mohamed, originally from Aleppo, moved to Marea five months ago and now lives in a single room with his wife and three children. He would prefer to head to Turkey, but his wife and children do not have passports.
"We still get money from my wife's previous job. She used to be a teacher, which means she is paid by the government. Surprisingly, her wage hasn't stopped, and she still gets US$156 a month," he says.
Despite the dire conditions, he is happy with the revolution, and is looking forward to change.
"I don't want a tiring life anymore. After the war, we need to rebuild the country and ensure safety. We need the brains to come back [to Syria] — they left because of all the corruption and the rare opportunities to get into higher positions.
"Some people are afraid that after Bashar, power will be given to the Islamists, but I'm not scared. After Bashar," he hopes, "there will be a deal between all the different groups that are fighting."
This piece was originally published in Egypt Independent's weekly print edition.