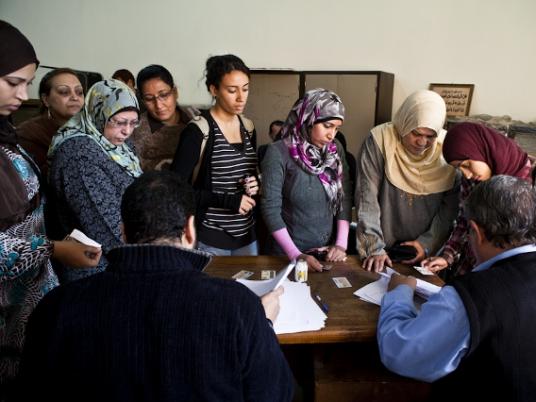 The Muslim Brotherhood's Freedom and Justice Party and the opposition Popular Current announced contradictory semifinal results in the first day of voting on the draft constitution.
The FJP's operations room reported that, based on results from 99 percent of polling stations from 10 governorates, the majority of voters in eight governorates approved the draft and the majority in two governorates rejected it. The party said that the document garnered 4,604,110 "yes" votes versus 3,539,994 "no" votes.
The party's statement was based on both judge's announcements and officially released results, it said.
Meanwhile, the Popular Current, founded by former presidential candidate Hamdeen Sabbahi, reported different results, saying that the constitution draft was rejected in four governorates and approved in six. The movement had joined other opposition forces in campaigning against the constitution, asserting that it was not representative of Egyptian society after the writing process was dominated by Islamists.
Both parties agreed that the constitution was rejected in Cairo and Gharbiya, although the FJP said 56.9 percent voted "no" in Cairo and 52.1 percent voted "no" in Gharbiya, while the Popular Current reported a "no" vote of 68 percent in Cairo and 56 percent in Gharbiya.
The Popular Current also claimed a landslide "no" vote of 72 percent in Alexandria, where the FJP said the constitution had been approved with a 55.5 percent "yes" vote, with only 44.4 percent of people saying "no."
The opposition party reported that the draft was rejected by 53 percent in Daqahlia, while the FJP numbers showed 55.1 percent voting "yes" in that governorate.