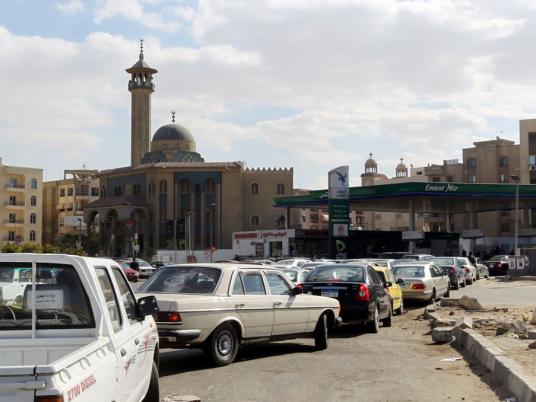 Violence associated with an escalating diesel fuel shortage occurred in several governorates across Egypt on Sunday.
A driver was killed in Beni Suef, while 14 were injured in clashes over fuel in Qalyubiya and Assiut. Several drivers blocked the agriculture road in Beni Suef and Gharbiya. Train and vehicles traffic was completely blocked in al-Mahalla al-Kobra city, as a result of a drivers strike in protest against fuel shortages.
Conflict erupted between two drivers at a gasoline station in Moneeb area in Giza. One was shot, and the victim's brother was injured while trying to end the dispute. A police report was filed, and the suspect arrested and referred to prosecution.
In Qalyubiya, armed clashes at a gasoline station led to 10 injuries, while clashes in Assiut left four injured, including a gasoline station worker.
In Gharbiya, the crisis escalated in the city of Mahalla. Protesters blocked railways and main roads for the second consecutive day, blocking train traffic between Mahalla, Mansoura and Tanta. The local Freedom and Justice Party accused remnants of the disbanded National Democratic Party of a "conspiracy" to damage people's interests, distributing money among drivers to strike.
In Kafr al-Sheikh, hundreds of residents and drivers protested before Balteem city council, blocking its gates with chains.
Clashes erupted among drivers and residents in Beni Suef, leading to blocking of the main roads. Several bakers threatened to close their bakeries.
Farmers in Beheira protested the fact that they were unable to buy gasoline in jerrycans. Clashes erupted among workers of a gasoline station and drivers in Daqahliya for the same reason.
Long lines of vehicles in Hurghada which blocked traffic before Safaga seaport.
Edited translation from Al-Masry Al-Youm