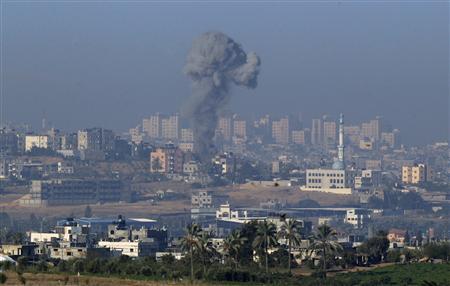 Two Palestinians were killed in a new Israeli air strike on central Gaza on Monday, pushing the death toll in six days of violence to more than 100, emergency services said.
"Two martyrs killed in a new Israeli strike east of Bureij [refugee camp] were taken to Al-Aqsa hospital in Deir al-Balah," an emergency services statement said. The deaths pushed the overall Gaza toll to 101.
President Barack Obama stressed the need for an end to Hamas rocket attacks on Israel in a telephone call to Egyptian President Mohamed Morsy on Monday to discuss ways to de-escalate cross-border fighting in Gaza, the White House said.
Obama "underscored the necessity of Hamas ending rocket fire into Israel" in his call to Morsy, the White House said in a statement. During the call, and in a separate one to Prime Minister Benjamin Netanyahu of Israel, Obama voiced regret over the loss of Israeli and Palestinian lives, the White House said.
Rival Palestinian factions Fatah and Hamas said on Monday they have decided to end infighting in a show of solidarity in the West Bank over the Gaza crisis, an AFP reporter said.
"From here, we announce with other [factional] leaders, that we are ending the division," senior Fatah official Jibril Rajoub told a crowd of about 1,000 who gathered for a demonstration in Ramallah, the West Bank's political capital.
Among those present at the rally were top members of Hamas's leadership in the West Bank as well as senior officials from its smaller rival Islamic Jihad, the AFP correspondent said.
Ramallah's Manara Square was a sea of Palestinian flags as the crowd chanted "Unity!" and "Hit, hit Tel Aviv" in an appeal to Hamas militants who have fired at least five rockets at the coastal city since Thursday.
"Whoever speaks about the division after today is a criminal," top Hamas leader Mahmoud al-Ramahi told the crowd.
Fatah and Hamas, the two main Palestinian national factions, have been locked in a bitter dispute for years.
But the ongoing bloodshed in the Hamas-run Gaza Strip, where Israel was on Monday pressing a sixth day of a major aerial campaign which has so far killed 91 Palestinians, appears to have prompted a rethink of traditional rivalries.
Gaza's Hamas-run government has long been at loggerheads with the rival Fatah-dominated Palestinian Authority in the West Bank and a unity deal struck between the two in April 2011, fell apart as the two bickered over the formation of a caretaker cabinet.