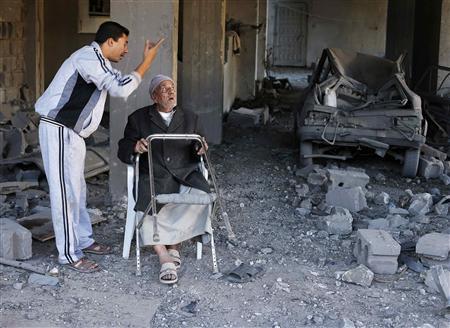 Hamas militants from the Qassam Brigades on Friday executed a man on charges of "collaborating" with Israel as warplanes pounded Gaza , Palestinian sources said.
"The Qassam Brigades on Friday executed a collaborator for providing guidance and information on the locations of the resistance and their rocket launchers to the Israeli occupation," a source told AFP on condition of anonymity.
Medical sources and witnesses said the man's body was taken to Gaza City's Shifa hospital.
The sources confirmed that a picture circulating on social media networks purporting to show the executed man's body, was authentic.
The photograph showed a man in a grey hooded sweater, his face pale and covered in blood, lying on the ground, a large sheet of paper with a message in Arabic written on it draped over his body.
"The Qassam Brigades announces the slaughter of the collaborator… who participated in the assassination of more than 15 of the leaders of the Palestinian people," it said.
Hamas and the Qassam Brigades had no official comment on the execution, but the Hamas interior ministry announced separately it had captured "suspected collaborators."