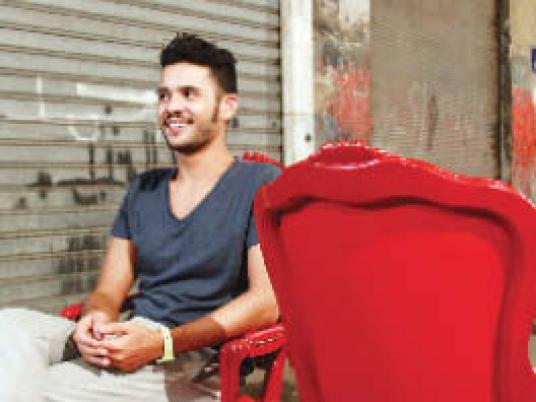 Cairo is an endless game of musical chairs, where a set of stackable stools wedged between parked cars is a veritable downtown cafe and where lonely chairs reserved for bowabs and the resident codger can be found below almost every high-rise tenement.
Two up-and-coming local designers, Ahmed Abuzaid of Block B and Manar Moursi of Studio Meem, have caught onto this curbside tradition and integrated it into their furniture designs.
With their fresh takes on "chairness" — what defines a chair — the two designers and artists are challenging a popular interior aesthetic in new Cairo homes, where old is literally gold.
"In Cairo, if you don't have golden furniture, you don't have furniture worth looking at. I'm poking fun at that," Abuzaid says, talking about his latest collection and how it contrasts with the golden touch. "I live in New Cairo, where everything is new and sparkling, green grass lawns in the middle of the desert. But they stuff them with furniture painted over to appear old and antique. It's tacky."
Sitting on plastic patio chairs at Takaiba, the 27-year-old shares the philosophy behind his design.
Block B — not to be confused with the Korean pop sensation of the same name — launched last year and is named after Abuzaid's former address in Kuala Lumpur. Abuzaid says Block B is not a reinvention of New Cairo, but rather an attempt or several attempts at mirroring the faces and facelifts that the city is today.
His playful, sexy and aggressive approach is reminiscent of pop art's shiny boots and washed ads. From the hatchback of a family minivan, Abuzaid pulls out a pair of red-dipped, leather fauteuils from his latest collection.
"In the beginning, I thought I wanted to do something kitsch, something similar to those knee-high, red pleather prostitute boots you see in movies, where all you see is red and you're blinded by red," he says.
Abuzaid draws his sketches from bed and works with carpenters and upholsterers seasoned in their craft.
"I go to a big warehouse in Damietta, where you have alleyways full of little workshops just carving away at commissions with great attention to detail. I'm painting all my nails with car paint. The studs are as important as the fabric themselves. As a friend says, they're there and they snatch your clothes!" he says.
A former ad man and copywriter, Abuzaid sees product design as a more creative outlet comparable to art, but not quite.
"With copywriting, you fool yourself into thinking that you're doing something really creative when you're actually not. You think it's art, but you're just convincing people to buy something that most of the time they don't really need. I wanted to do something really creative. In a lot of ways, a chair works like a canvas. It's such a basic thought, a chair," he says.
With a similar infatuation with chairs and in an effort to document Cairo's distinctive "chairscape," Moursi developed "1,001 Street Chairs in Cairo," a growing photographic archive of her chair encounters throughout the city. From these peripatetic musings and diarized missed connections with an otherwise banal form, Moursi draws inspiration for her work at Studio Meem, where she promotes a trend for a more conscious consumer.
We visited her private showroom in Zamalek to see her original designs, which include several prototypes made in the last year, including cushioned chairs, a coffee table, suspended shelves, a side table and cabinetry — all fashioned from gireed, or palm fronds, a local material traditionally used in making bread crates.
"There's a sort of wabi-sabi imperfection in the crates," Moursi says, referring to a Japanese aesthetic perspective in which imperfection is beauty.
Though the pieces are crafted in form, the material's organic variations render each unique.
Moursi's chair is made from an up-cycled crate, treated, then painted white and topped with a cushion. Woven into latticework like wicker, gireed is a sturdy material.
"When I walk, I see things in the street and the crates caught my eye. It's so intuitive to use palm wood because it's available in Egypt. So I was very interested in using this material. Other artists have explored these objects in their artwork, even Orientalist painters, and writers like Flaubert and Nerval wrote about these palm things," she says.
During his travels through Egypt, the 19th-century French painter Jean-Leon Gerome captured the scenes that impressed the image of the so-called Orient. In many of these depictions, men swathed in crinkled, flowing garments would be hunched over a chessboard, tickling a lute or leering at a nude gamin and his foreboding snake.
Whatever the situation painted, the characters were arrested in a seated posture, slouched against a wall or perched on gireed.
Like Abuzaid, the 29-year-old Moursi relies on local artisans from Saqqara in a dynamic that has revamped her design process.
"Most of the artisans can't read or write, and so we always have to work with our hands and movements. It's a very hands-on process, based on constant feedback. It's not like I'm designing in the office and I'm on Rhino and I print it out and give it to contractors. No, I'm sitting on a crate in the middle of a palm grove and I'm telling this guy I want it this high, and he plays with it," she explains.
Moursi shifted her career from a corporate firm to her self-owned startup, which she opened last year. The Princeton University graduate and former Dubai-based architect says product design allows for more instant gratification and a wider reach.
"I was really excited moving from the scale of architecture to the scale of products, because one thing with architecture is that the act of translation is always three or four times removed from the final product. And I saw how the process is and how the client dictates the design agenda, and it's give and take, and you have to propose your design and try to convince the client," she says.
By sticking to more manageable and compact designs such as chairs, Moursi is able to create freely and incorporate her own values of environmentalism, heritage preservation and local artisanship.
Both designers are looking into galleries and likeminded lifestyle shops to vend their work. For now, new chairs and other furniture designs by Studio Meem and Block B are custom made-to-order, and previews are available on their respective Facebook pages and on www.studiomeem.net.
This piece was originally published in Egypt Independent's weekly print edition.