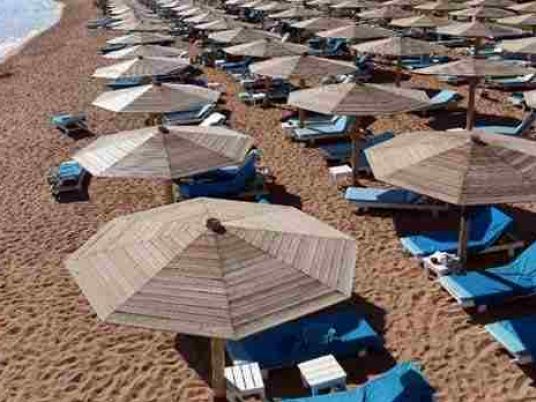 After President Abdel Fattah al-Sisi's decision to enforce a three-month state of emergency in wake of the deadly twin attack on Egypt churches, a wave of concern was sparked about whether this decision will weigh badly on the tourism industry, particularly in 2017 when positive signs for the industry's revival started to show after six years of hardship.
The majority of tourism experts emphasized that enforcing the Emergency Law would only have a "tenuous" impact on tourism, especially as trip cancellations are not possible since the law was activated couple of days ago.
Speaking to Al-Mehwar satellite channel, Hesham Aldemiery, head of Tourism Promotion Authority, said imposing a state of emergency will have no impact on the flow of tourists in Egypt, pointing out that many countries haved lived long periods under this law without being affected by tourist shortages.
"Activating the law is an internal issue; it does not relate to anybody outside the country. The authority will continue its normal work in promoting and marketing tourism in Egypt," he said.
While Moataz Elsayed, the former head of Tourist Guides Syndicate, told Egypt Independent that there might be a negative impact but only very slight. He explained that Egyptian tourism was witnessing its peak during the era of the former president Hosni Mubarak, at which point the emergency law had been activated for 30 years.
In October 1981, the emergency code was activated when former president Mohamed Anwar al-Sadat was assassinated, lasting throughout the entire ruling period of Mubarak who left power due to the revolution in 2011.
Elsayed added that many European countries have activated Emergency Law and tourism was not affected, including France and Turkey; "I believe people got used to hear the words 'terrorism' and 'explosions' in several cities in the world due to the frequent terrorist attacks that are taking place across the world," he said.
Elsayed pointed out that at this time it is not possible to cancel booked holidays. "The most positive thing is that no countries issued a travel ban against us after the emergency law was activated, which may reassure the terrorists to come," Elsayed said.
The US Embassy in Cairo issued a security alert to US citizens on Tuesday, indicating that they should avoid identifiable places of worship for the next two weeks.
Meanwhile Ali Ghoniem, former member of Egypt Federation of Chambers of Tourism, said the state of emergency is securing both the citizen and the tourist and the country is in a real need to fight terrorism.
Ghoniem said the decision may have an instantaneous impact on tourists but when time passes it will fade as they will realize all the countries across the world are threatened by terrorism. "We have already been suffering poor tourist influx for more than six years, so the decision would not have a strong impact on this modest flow," he said.
Ghoniem believes that "state of emergency" is no longer a terrifying term to people as it used to be in the past; rather, it has become very common and widespread. He said the Association of Tourism Companies has sent many emails to their clients in several countries explaining the situation in Egypt and reasons for the enforcement of the emergency law to correct the image about Egypt.
He pointed out that the government needs to intensify its efforts to launch touristic promotions and change the incorrect image tourists may have about Egypt due to the frequent terrorist attacks and political insecurity.
"The Emergency Law is enforced in many big countries, including France – one of the most popular tourist destination in the world – and their decision did not affect the tourist influx because tourists understand very well that security measures were taken to safeguard them," he said.
In November 2015, a state of emergency was declared in France following the Paris attacks, to be ended after the presidential elections in 2017.
While Tharwat al-Agamy, the tourism advisor of the Chamber of Tourism Companies in Luxor, believes that doubtlessly any terrorist attack may leave an impact on the tourism industry, but the security measures that were taken by the country send a message to the world that the country is safe and combating terrorism.
Moreover, he said Pope Francis' trip to Egypt this month, which is going on as planned despite the terrorist attacks, is a positive thing and sends a very strong message to the world that Egypt is safe.
"Nowadays everyone's country is threatened by terrorism, so what should people do? Stay home and never go out?" he said, pointing out that major countries are threatened by terrorists attacks and from time to time we hear about an explosion or a suicide bombing in a different country including Germany, France and Turkey
During Mubarak's era, Egypt hosted from 12 to 15 million tourists per year when the emergency state was activated and it had no effect on tourism, Agamy concluded.