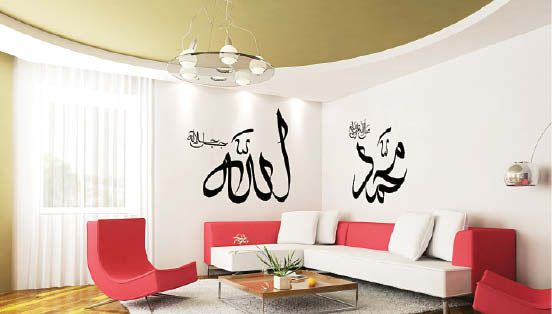 For the team at Irada, it's all about adding that spiritual touch. Through Islamic art inspired wall decals quoting verses from the Quran, the Hadith and Islamic poetry, they hope to bring a little of the divine into ordinary homes, office spaces and even mosques.
"We noticed that most decorations in residences focused on being a type of artwork, modern or classic, but not enough on how to really create a kind of art that served its purpose — day in and day out. What we found in many traditional Islamic art pieces is that — despite their beauty and elegance — most quickly receded to the background and were usually ignored by most after the initial viewings," says Besim Bruncaj, Irada marketing and art director.
"How often do you stop and reflect on the artwork in your home after the initial week or two after purchasing?" he asks. "What we found was that the answer for most was 'once in a blue moon.'"
Modern art, he says, tends to be a bit bolder and can attract attention day after day, but most pieces are created by artists untrained in the classical tradition, and who lack the skill to create beautifully balanced artwork.
"Anyone who compares books of modern Arab and Islamic art with books of classical art from the periods of classical Islamic civilizations will quickly notice a lack of the divine presence in the work as most modern artwork lack the elegance, grace, form, rhythm, proportion, balance and other classical principles of rich Islamic art," Bruncaj says.
Irada seeks to combine the best of both worlds: the beauty of classic Islamic art with the bold majesty of most modern art. The wall decals are made of a special kind of vinyl adhesive that is incredibly thin, with a matte texture. The calligraphy appears as if it painted directly on the wall, but can in fact be removed without damaging the paint.
Irada, based in Jordan, was officially launched one year after composing small-scale artwork in 2009.
Bruncaj and his team made their first wall art for a summer study program at the offices of SunniPath. Bruncaj then started collecting ideas, when a friend, Abdel Rahman Ashraf, persuaded him to collaborate to establish the company. Since its establishment in late 2010, they have slowly built up a catalog, and improving business operations.
Before deciding on a name for the project, they did extensively research, looking for a word that reflected the message they wanted to convey through their work.
"We chose the word Irada because it means to strive for something one desires or wants. Or, in a spiritual context, it is about striving for the divine. So, it indicates what we are after — artwork that redirects one's purpose and increases one's yearning to be with Allah," Ashraf explains.
Irada's most in-demand themes, according to Bruncaj, tend to be the same kind that Muslims have conventionally looked for to adorn their homes. He gives as an example "Ayat al-Kursi" (the verse of the throne), and the fatiha, "In the name of God, most Gracious, most Compassionate."
Kufic and Thuluth script are the two most popular calligraphic forms. But there is a wide array of other script styles, designed in Arabic or English in various sizes and created by a team of calligraphers, artists, illustrators and designers.
Tailor-made designs are also provided for customers, but that requires a longer waiting period to obtain a unique artwork. Although the custom designs are much pricier — since the company has to recover all of its costs in a single sale — many customers choose this option because they want a specific saying or an original design. Ashraf counts a custom six verses from "Surat al-Nour" (the verse of light), which was designed for a mosque in the US, among the company's most distinguished orders.
Despite its special emphasis on Islamic-themed artwork, Irada makes a variety of different themed artworks for customization production, as they receive requests from non-Muslims as well. The team is currently working on a calligraphy piece for a Christian family that moved abroad and wants all of their names in one artwork for their home. Another piece, designed for the Cambridge Inter-faith Program's office, features a Jewish, Christian, and Islamic quote pertaining to taking wisdom and knowledge from others.
Wall stickers for Islamic occasions, including Ramadan and other holidays, are also produced by the company. Since these artworks are seasonal, customers are recommended to place them on a canvas, so that they can take them down and put them back up.
Mostafa Sabry, an owner of a household appliance store, expresses his interest in the holiday-themed decals, but has some concerns over Quranic verses.
"Ramadan and Eid decals give a pleasant atmosphere to the place, but Islamic quotes might make some non-Muslims customers feel uncomfortable," he says.
If it is for your own interior design decision, however, 52-year-old Omima Hazem believes that the decals would act as a gentle reminder of her religious beliefs.
"Most people are used to hanging Quranic verses on the walls of a home. So, introducing the idea in innovative styles would surely provide a sense of tranquility and look attractive as well," she says.
Though the company is located in Jordan, Irada welcomes orders from around the globe.
In an attempt to widen its customer base, Irada is looking into displaying in galleries and potentially opening up stores within the next two years.
"For the time being, we have opened up options for wholesale as a first step, until we are ready for opening up stores, but most likely we will just set up some franchises in different countries," Bruncaj says.
"We are passionate about our artwork and still have quite a number of pieces we feel need to be completed before we turn our energies to marketing. We are driven by the concept that in today's world, focusing on excellence in your products is the only way to true, long-term growth."
A vast majority of Irada's customers come from the US, UK, Canada, and Singapore, Ashraf says, pointing out that these are also countries with a large base of online Muslim shoppers.
After achieving success abroad, Irada is taking the next step to enhance its status in the Middle East market, including Egypt.
"We are now slowly expanding to the Middle East market and Egypt is definitely a country that we would love to spread our artwork to, especially with the growing interest in religion nowadays," Ashraf says.
This piece was originally published in Egypt Independent's weekly print edition.