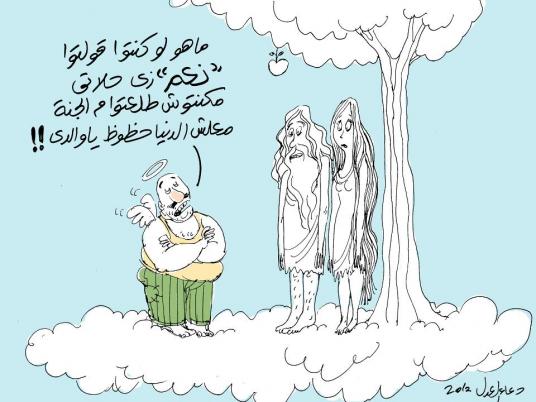 Prosecutor General Talaat Abdallah referred an Islamist lawyer's complaint alleging that a cartoon published in Al-Masry Al-Youm was blasphemous to the North Giza Prosecution Wednesday.
The lawyer alleged that cartoonist Doaa Eladl disparaged Islam with her caricature depicting a man and woman standing next to an apple tree as a third person says to them: "If you had said 'yes,' you wouldn't have been driven out of paradise. Life is about fortune, father."
The complainant argued that the drawing was blasphemous for likening those who voted "no" in the constitutional referendum to Adam and Eve and implying that voters who accepted the document would enter paradise.
Eladl said that she did not mean to mock Islam, pointing out that the concept was based on sheikhs' calls on satellite channels urging people to approve the Constitution as part of the path toward paradise.
Prominent Brazilian cartoonist Carlos Latuff drew a caricature supporting Adl and wrote on Twitter that he defends her right to free expression.
Edited translation from Al-Masry Al-Youm