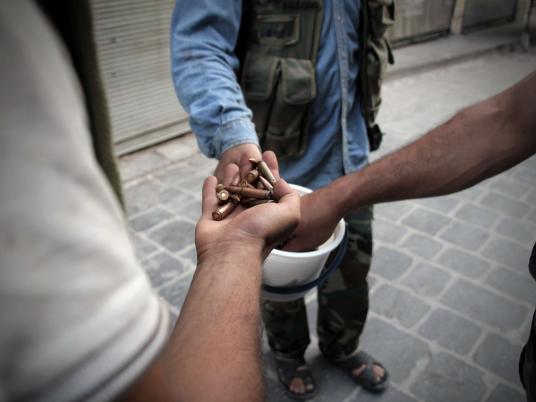 Rebels led by the radical Islamist group Al-Nusra Front seized a strategic army base in the northern Syrian province of Aleppo Monday after weeks of fierce fighting, a watchdog said.
It was the last major military base west of Aleppo remaining under army control.
"Al-Nusra Front, alongside several Islamist rebel battalions linked to it, has seized control of the army base headquarters at Sheikh Suleiman," Syrian Observatory for Human Rights director Rami Abdel Rahman told AFP.
Base 111, with its headquarters in the village of Sheikh Suleiman, sprawls over nearly 200 hectares of rocky hills about 25 kilometers from Aleppo city.
"It is a significant win for the rebels. It proves the army is still suffering major military losses," said Abdel Rahman, adding that the rebels seized up to 10 military vehicles and at least one tank.
Several other rebel groups claimed responsibility for the capture.
"We, the battalion of Ahrar Daret Ezza [Free Men of Daret Ezza] of the Free Syrian Army, with the help of other rebel brigades, have freed Base 111," said a rebel spokesperson, in a video statement posted online.
But Abdel Rahman insisted Al-Nusra and its allies were behind the capture.
"The mainstream FSA may want to claim this victory, but it is not theirs. It is Al-Nusra Front's and groups linked to it," he said.
According to an AFP journalist who covered the clashes around Sheikh Suleiman, many of the fighters were foreigners from other Arab countries and Central Asia who have joined the insurgency against President Bashar al-Assad's forces.
Abu Talha, a rebel chief in the area, is from Uzbekistan.
Another video posted online showed Muhajireen battalion fighters linked to Al-Nusra standing in front of black flags and reciting the Muslim profession of faith inside the abandoned base.