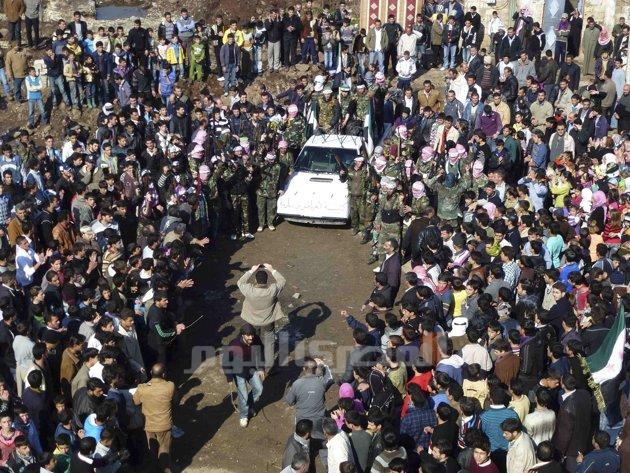 Jordan's powerful Muslim Brotherhood on Sunday called for "jihad" against Syrian President Bashar al-Assad's regime and support for the rebel army, saying it is "an Islamic duty."
"This duty requires all Muslims to support the [rebel] Free Syrian Army against the aggression of the regime's criminal and brutal forces," Brotherhood leader Hammam Said was quoted as saying in a statement on the group's website.
"The Free Syrian Army must continue to defend its nation and face the crimes of the regime."
The crackdown on protests in Syria have killed more than 6,000 people since March last year.
"Jihad against Assad is an Islamic duty," said Mohamed Abu Fares, a member of the movement's fatwa (religious edict) committee.
"The Syrian people have the right to defend themselves. They must not give up."
The Islamists, who demanded Jordan recognize the opposition Syrian National Council, sent letters Sunday to the prime ministers of Russia and China, urging them to reconsider their vetoes used earlier this month to block a UN Security Council resolution condemning Syria's regime.
"The veto was a green light for Assad's regime to multiply its crimes against the Syrian people," said Hamzeh Mansur, chief of the Islamic Action Front, the Brotherhood's political arm, which has urged Muslims and Arabs to boycott Russian and Chinese products.
Meanwhile, Jordan's Hashemite Charity Organization said it will open a camp to host Syrian refugees near the border by the end of next week.
"The 30-dunum refugee camp [each equivalent to 1,000 square meters] will receive Syrian families who are expected to come to Jordan," organization Secretary General Ahmad Emyan told the state-run Petra news agency.
"Currently there are 700 Syrian families in the southern city of Mafraq, where the organization has rented houses for them."
Government figures are unavailable on Syrians who have fled to neighboring Jordan from the deadly unrest in their country, but UN head Ban Ki-moon said during a visit to Amman last month that the kingdom was hosting 2,500 Syrians.