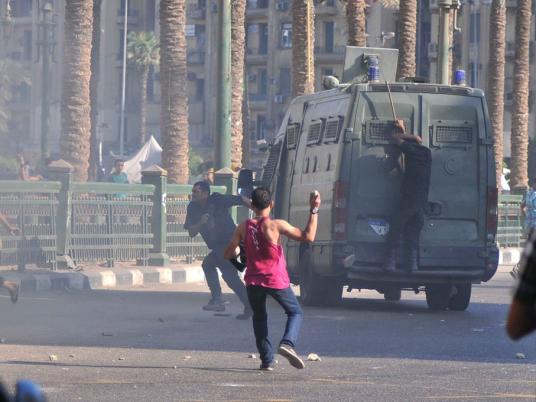 A man died Friday in clashes between protesters and security forces around the US Embassy related to the recent anti-Islam film produced in the US, security sources said.
According to a statement released by the Interior Ministry, Ismail Rashad Ahmed, 35, fruit seller, was taken to the hospital Friday afternoon after he was shot by rubber bullets.
The statement alleged that the victim had prior criminal convictions, including for theft, assault, drug dealing, and illegal possession of a firearm.
Investigations are underway to identify the circumstances surrounding the incident.
Security forces evacuated protesters from Tahrir Square Saturday morning after clashes that lasted for four days in the vicinity of the US Embassy.
​​The police sealed off the entrances to the square, while traffic returned to normal.
Security forces also arrested approximately 220 protestors, in addition to the 142 who were arrested earlier in connection with the protests.
A state of uneasy calm prevails the area surrounding the US Embassy building, near Tahrir Square.
Clashes had continued until Saturday dawn, as protesters threw stones at the security forces, and the latter responded by firing tear gas canisters.
Sources said that the Interior Ministry summoned more security reinforcements in the vicinity of the embassy, ​​including more than 10 groups of Central Security forces and seven armored vehicles.
Al-Masry Al-Youm quoted an Interior Ministry official Saturday as saying that security forces will deal with the protesters outside the US Embassy as criminals for trespassing and damaging public and diplomatic facilities, as well as for assaulting the police and endangering the security and safety of the community.
He added that the protesters outside the embassy do not represent any political parties or ideologies, or football fan groups.