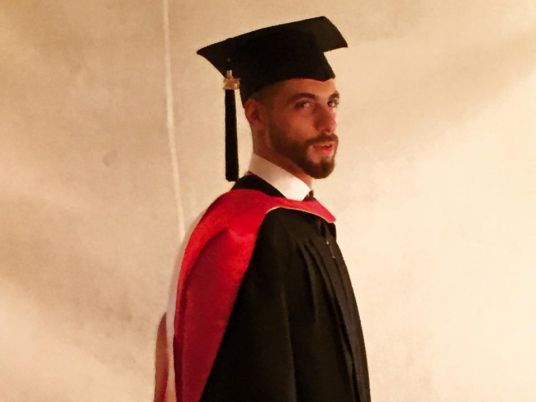 Cairo Criminal Court on Wednesday convicted the main suspect in the killing of a young man at a cafe after a row over a bill in February of manslaughter. The court sentenced Amr Mostafa, the main suspect in the case, to seven years in prison.
The court found the crime punishable by article 236 of Penal Code which states: "whoever wounds or beats someone on purpose or gives him harmful materials without meaning thereby to kill, but doing that has led to death, shall be punished with hard labor or imprisonment for a period of three to seven years."
The Heliopolis Misdemeanor Court in March sentenced the cafe owner Osama al-Naggar and the manager Abel Raouf Mahmoud to two years jail time each for their involvement in incidents that led to the killing of Mahmoud Bayoumi.
Bayoumi, 24, was stabbed to death in February following a violent argument with workers at Keif cafe, after the final African Cup of Nations match between Egypt and Cameroon.
Police investigations showed that after the match was over, the waiters locked customers inside the coffee shop and asked everyone to pay the bill before leaving.
Bayoumi, the deceased, objected to the way the waiters were treating the customers, which resulted in a heated argument between him and the staff members.
The argument soon escalated between both parties and Bayoumi was reportedly hit by a metal chair, a belt, and stabbed twice with a sharp metal object, once in the stomach and another time in the chest, leading to his death.
Bayoumi was born in Mansoura, Daqahlia governorate, and graduated in 2015 with a Bachelor's degree in Marketing from the British University in Egypt. He was in critical condition and died as soon as he was admitted to Cleopatra hospital.
Police forces shut down Keif cafe, and also raided unlicensed coffee shops in Heliopolis. The deputy governor of Cairo, Ahmed Taimour, said the police shut down 11 unlicensed coffee shops in the neighborhood.