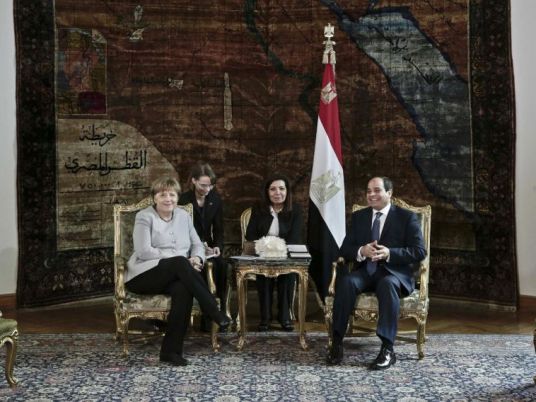 German Chancellor Angela Merkel held talks with President Abdel-Fattah el-Sissi shortly after her arrival in Cairo on Thursday, and is expected to meet with businessmen, civil society representatives, and Muslim and Christian leaders before heading to Tunisia on Friday. It is her first visit to Egypt in a decade.
Merkel's spokesman, Steffen Seibert, said ahead of the trip that Germany wants to help Egypt strengthen its coast guard and crack down on illegal trafficking across the Mediterranean, where thousands of migrants die at sea each year.
Merkel is believed to be seeking a deal similar to the one reached between the European Union and Turkey in which Ankara blocks migrants and refugees from traveling onward to Europe in exchange for economic aid.
Human Rights Watch last week described Merkel's visit as part of a European effort to "externalize responsibility for migrants and asylum seekers."
"Ensuring safe and swift returns of Tunisians and Egyptians who are not in need of protection is legitimate, as long as the procedures are fair," said Judith Sunderland, associate Europe and Central Asia director for the New York-based rights group.
"It's another thing entirely to pursue dodgy deals that could trap asylum seekers and migrants from elsewhere in countries like Tunisia and Egypt that cannot guarantee decent treatment or meaningful access to asylum."
It was not clear if Merkel would raise concerns about human rights in Egypt, where the government has waged a wide-scale crackdown on dissent since the military overthrew an elected Islamist president in 2013. Thousands have been jailed since then, and the government has banned all unauthorized protests.
Merkel's delegation includes several German CEOs who were expected to discuss investment opportunities during the meeting with el-Sissi, who is struggling to jumpstart the economy after years of unrest.
She attended the inauguration of a Siemens megaproject to build three new power plants in Egypt. Siemens signed an 8 billion euro deal with Cairo two years ago that aims to boost Egypt's power generation capacity by around 50 percent by May 2018.