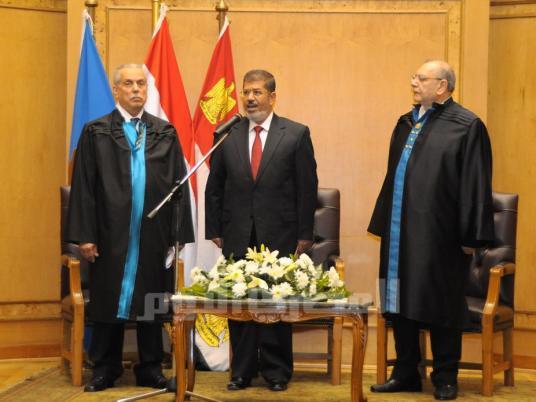 The office of President Mohamed Morsy issued a statement on Wednesday declaring that he would respect the Supreme Constitutional Court's Tuesday ruling which effectively overturned his 10 July presidential decree to reinstate the People's Assembly.
The statement stressed that Morsy's decree was intended to reinstate the People's Assembly so that it could continue to perform its duties until parliamentary elections were re-staged, which would theoretically happen 60 days after approval of the new constitution that is currently being written. His decision was not meant to disrespect the judiciary or the ruling of the SCC that had originally disbanded the People's Assembly, the statement continued.
"The goal was to choose the right time to implement the verdict in the interests of the people and the country and to preserve the authority of the state, especially that of Parliament, which was elected to carry out certain duties, so there wouldn't be a power vacuum in terms of legislation," Morsy's statement said.
"If the Supreme Constitutional Court's ruling issued yesterday prevents Parliament from performing its tasks, we will respect that because we are a law-based state," the statement added.
The presidency said that it would consult with different political entities, institutions and the Supreme Judicial Council on the best way to overcome this crisis until the new constitution is approved.
Sources told Al-Masry Al-Youm that Morsy met with legal experts on Tuesday following the SCC's ruling that blocked the reinstatement of the People's Assembly.
The sources, who asked to remain anonymous, said that during the meeting Morsy rejected a proposal to hold a referendum on the reinstatement of the People's Assembly and the annulment of the supplement to the Constitutional Declaration that was issued by the military council late last month.
Edited translation from MENA