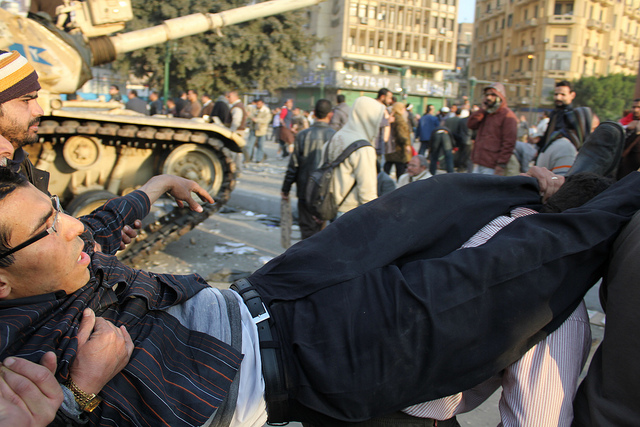 The public prosecutor has forwarded a complaint to the justice minister accusing the Muslim Brotherhood of involvement in killing demonstrators during the infamous Battle of the Camel, which took place on in Tahrir Square on 2 and 3 February during the uprising against Hosni Mubarak.
By law, the justice minister is the only official with the ability to appoint an investigating judge to oversee a legal case.
In their complaint, lawyers Khaled al-Desouky and Ahmed al-Simary specifically accused Safwat Hegazy, an Islamist preacher; Mohamed al-Beltagy, an MP of the Brotherhood's Freedom and Justice Party; and Mohamed Badie, the Brotherhood's supreme guide.
They said they have CDs proving that snipers of the Ezz al-Din al-Qassam Brigades, a Palestinian militant group, and Hamas slipped into Egypt to help the Muslim Brotherhood kill demonstrators.
The lawyers also accused the Brotherhood of burning down police stations and breaking into prisons to help prisoners escape, contending that the intelligence services and presidential candidate Ahmed Shafiq have proof of this.
They further accused the Brotherhood of facilitating the entry of terrorist groups into Egypt, cooperating with foreign entities, and smuggling weapons into the country to disturb national security.
The Brotherhood maintains that it had no role in killing protesters during the Battle of the Camel, saying its members were in fact at the heart of the fight protecting the square.
Edited translation from Al-Masry Al-Youm