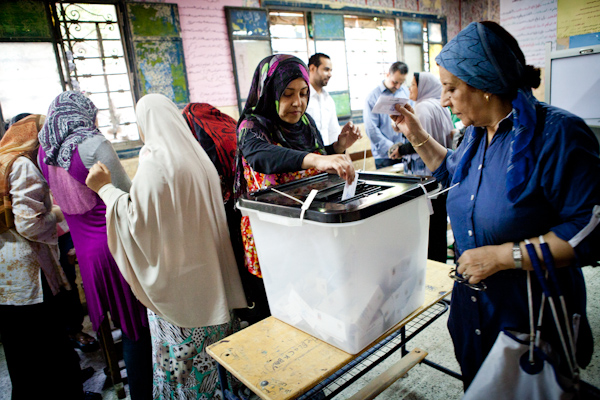 Members of the National Salvation Front opposition coalition have agreed on several proposed amendments to the new election law.
The proposed amendments include the repartition of electoral districts based on population, complete judicial supervision by having a judge at every ballot box, a reduction in the number of voters casting ballots at each box from 1,000 to 500, and limits to electoral campaigning.
Democratic Egyptian Party chief Mohamed Abul Ghar said his party submitted several proposals on the law through its parliamentary bloc in Shura Council, and that the party demanded that the voting process be lengthened either to last two days or to start at 8 am and end by midnight.
The demands also included holding elections over three rounds so that there would be a judge for each ballot box, Abul Ghar told Al-Masry Al-Youm. He said the maximum number of voters casting ballots at each box should be no more than 500, to overcome the problem of congestion at polling stations.
Abul Ghar said ballots for list-based candidates should be counted at the subcommittee level, not just ballots for list-based candidates. The high elections commission should be formed of judges and heads of subcommittees, he added.
Hussein Abdel Razeq, member of the Tagammu Party presidential council, said his party sent proposals on the elections law to Ehab al-Kharrat, head of the parliamentary bloc of the Democratic Egyptian Party in the Shura Council, to be reviewed by the council.
Abdel Razeq warned against expediting approval of the law. He also suggested a proposal on minimum representation for women in Parliament at no less than 30 percent, as well as complete judicial supervision of every ballot box and a financial ceiling for electoral campaigning.
The Tagammu Party expressed its rejection toward the current repartition of the districts, and called for dividing them according to population.
Mohamed Samy, head of the Karama Party, said civil groups do not expect what he called the "Brotherhood" Shura Council to issue a law that would satisfy all political groups, but instead one without amendments and with the same wording as the version issued by the Justice Ministry, despite the National Salvation Front's proposals.
Constitution Party official Ahmed Darrag said the law is full of defaults that enable the Brotherhood majority to form Parliament.
Edited translation from Al-Masry Al-Youm