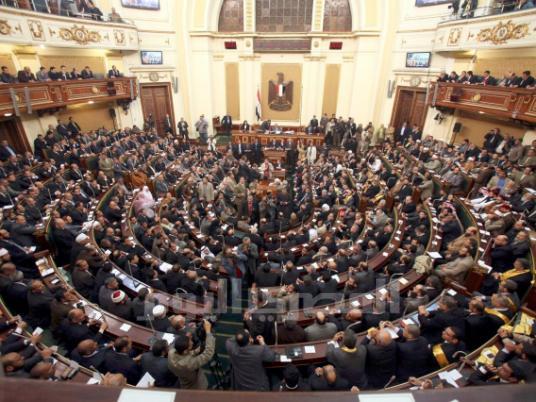 Standing for a minute of silence to mourn someone is not at all mentioned in Islam, said the spokesperson for the Nour Party Tuesday, after some Salafi members of Parliament left a Monday session during a minute-long mourning for Pope Shenouda III.
In a phone interview with the privately owned Dream TV channel on Monday, spokesperson Nader Bakkar said his words did not refer to Pope Shenouda in particular, but anyone, whether Muslim or Christian.
On Monday, People's Assembly Speaker Saad al-Katatny, a member of the Muslim Brotherhood's Freedom and Justice Party, asked MPs to stand for a minute's silence in remembrance of the pope. However, some Nour members left the session ahead of the silence, while others refused to stand.
Bakkar said in the interview: "The party didn't criticize whoever stood up, and it also didn't say that this tradition contradicts with Islamic rules."
He added that the party didn't impose its interpretation on anyone, but the members who didn't take part were committed to Sharia.
Bakkar also addressed the recent comments of Salafi preacher Yasser Borhamy, who had reportedly said it is un-Islamic to pray for mercy for the pope. Since Borhamy is a senior sheikh, Bakkar said he cannot comment on what he said.
As he is a party spokesperson, Bakkar said he didn't want to get involved with other issues and would only answer questions related to his party.
Bakkar also reminded that his party offered condolences to Copts on the same day of the pope's death.
The Parliament, currently run by an Islamist majority, has officially offered condolences over the pope's death. Katatny said, "Egypt lost one of its national icons, a man who left a void in the political arena at a critical time while we are rearranging our Egyptian home.