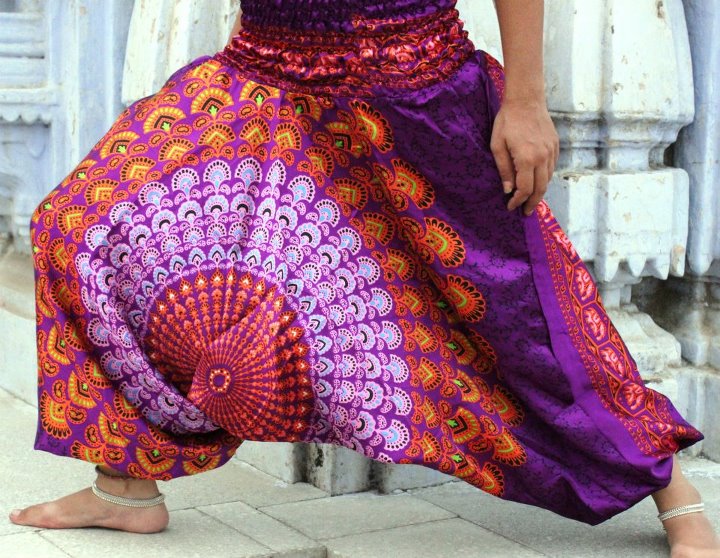 As the year comes to a a close, winter settles in on our wardrobes, piling over memories of sleeveless tops, warm nights and flip flops. While Cairo struggles through its political crises, young fashion designers have been struggling through their own efforts to find an identity and bring their designs to the forefront. And Cairo fashion has never been so local — from glasses to bags, shoes and outfits, Cairenes have been looking at Cairo's designers for wardrobe updates. We've seen beautiful clothing, jewelry and beauty products throughout 2012, but narrowing it down to our favorite four has been easy.
MC Hammer pants
Comfortable, striking and tummy-flattening, these loose and baggy pants are attributed to everything from fishermen to MC Hammer and Afghanistan. Thalath Fashion for everyday wear calls them the "chill pants" and sells a colorful pair for LE160.
Proud to be Egyptian
Whether it's using khayameya tent fabric for designs or putting Egypt-loving designs on the front of T-shirts, local designers have been expressing Egyptian pride through many of their designs. Azza Fahmy featured her "Rumuz" line with Egyptian folkloric symbols, Hiba el-Awadi made plastic bracelets with the Egyptian eagle and P.E.G.by O! (Proud Egyptian Girl by Ola Bitar) featured cotton T-shirts with funky traditional iconography.
Natural beauty products
While foreign beauty product companies market the organic naturalness of their new lines, local producer Nefertari is an expert in the all-natural. Their body care line includes natural kohl eye liner, scrubs, candles, massage oil and shea butter soap (LE90) for the face and body.
Bracelet layering
Mixing gold, silver, thread and plastic has never looked so great. As "Boho Chic" continues to lurk about the fashion scene these days, the layered bracelet look mixes the cheap and the expensive, the colorful and the meaningful, creating artwork that accentuates the wrist. Pair Retro Chic's fun rubber bracelets sell for LE63, and bracelets with beads and threads from Fortheloveof for LE154.
This piece was originally published in Egypt Independent's weekly print edition.