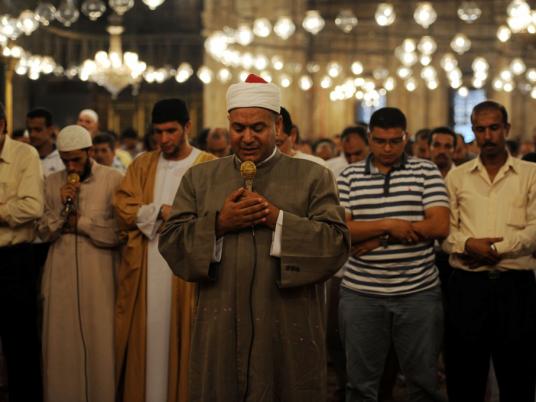 Today's Friday sermons focused on the current political crisis and the constitutional referendum set to kick off Saturday in Cairo and nine other governorates in Egypt.
At Omar bin Abdel Aziz Mosque near the presidential palace in Heliopolis, preacher Mahmoud Bakkar called on his congregation to participate in the voting process. Religion instructs people to be positive, not to boycott, and to respect different opinions, he said.
Whether they would vote "yes" or "no," everyone should cast a ballot, Bakkar said, adding that this is a personal choice that has nothing to do with heaven or hell.
Bakkar urged his followers to stop accusing each other of disloyalty, saying that religion forbids such behavior, but rather commands people to unite under God and the homeland.
During the sermon, some worshippers accused Bakkar of mixing religion with politics and violating the sanctity of mosques. They accused the preacher of promoting participation in the referendum based on instructions from the Muslim Brotherhood.
Bakkar responded that he was neutral towards the constitution draft, and that the Ministry of Endowments had instructed preachers to urge their followers to vote in the referendum.
In Tahrir Square, Sheikh Abdel Ghany Hendy — coordinator of the Popular Movement for the Independence of Al-Azhar — delivered the Friday sermon on a stage set up by protesters in front of the American University in Cairo campus.
In his sermon, Hendy said that Islam calls for listening to opposing points of view, and upholds the value of dialogue. The Prophet Mohamed had established an Islamic state based on justice, freedom and respect for both rivals and friends, Hendy preached.
Egypt is now at a crossroads, but will triumph in the end because its people will be bound together on the Day of Judgment, Hendy said, citing Egypt's history of fighting injustice and occupation.
Hendy criticized attempts to divide the people, and the underestimation of the poor and illiterate in rural areas, claiming that these "simple people" would write a new, bright history for their country.
Hendy said that Egyptians reject all forms of sectarianism and intolerance.
After Hendy's sermon, protesters performed prayers for the victims of the presidential palace clashes, including photojournalist Al-Husseini Abu Daif.
Edited translation from Al-Masry Al-Youm