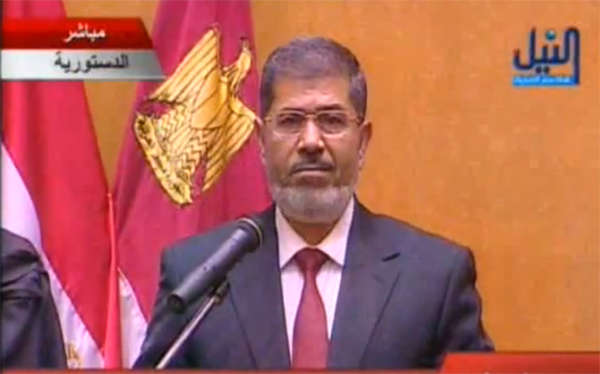 A poll conducted in January has shown President Mohamed Morsy's public approval rating to be 53 percent, a decline of about 10 percentage points compared to a poll conducted at the end of December 2012.
According to the poll, conducted by the Egyptian Center for Public Opinion Research (Baseera), those who said they "agree" with the president's performance fell from 40 to 34 percent, and those who "strongly agree" from 23 to 19 percent.
The center said in a statement that the most recent poll was conducted using the same methodology as the one conducted in December, and without any change in the wording of questions.
The results of the poll said that 39 percent of respondents do not agree approve of the president's performance, while 8 percent do not know or have no opinion.
The poll showed that young people are less satisfied with the president's performance compared to older age groups, while the lowest satisfaction percentage appears among those with a college education or higher at 33 percent, compared to 56 percent among those who have not completed high school.
The approval rate is also lower in urban areas compared to rural ones. Urban areas registered a 36 percent approval rating, while 64 percent of rural respondents in Upper Egypt and 52 percent in the Delta approved of the president's performance.
In response to a question asked during every poll, "If elections were held tomorrow and Morsy was a candidate, would you vote for him?" the results showed that the percentage of those who would was down to its lowest number since he took office, at 39 percent.
It marks the first time that the percentage of those who would not vote for the president has risen to 44 percent.
The center said the poll was conducted using landlines and mobile phones, with a sample size of 2,303 citizens 18-years-old and above in the age group 18 years and above. All the interviews were conducted on Wednesday and Thursday 30 and 31 January 2013. The response percentage was about 76 percent, with a margin of error of less than 3 percent.
Edited translation from Al-Masry Al-Youm