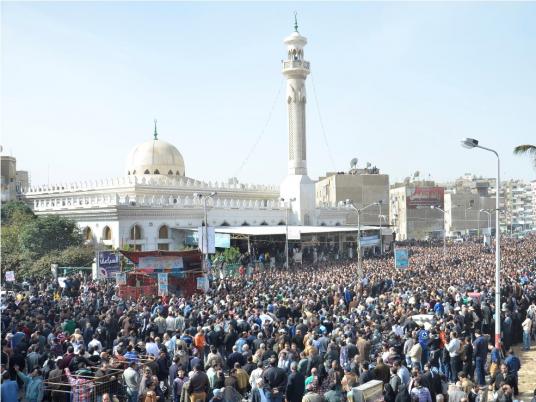 The president's social communication's adviser, Emad Abdel Ghafour, plans to visit Port Said in two days, a source close to the president's office told Turkish news agency Anadolu Thursday. Protesters began a civil disobedience campaign in the city five days ago.
The visit of the founder of the recently established Salafi Watan Party is intended to contain the issue.
Shipyard workers continued striking for the fifth consecutive day Thursday, joining demonstrators from the Port Fouad City Council as part of the ongoing campaign.
Together they marched through the streets, blocking roads as they protested against President Mohamed Morsy and the sentencing of 21 Port Said residents to death over the football stadium massacre, where more than 70 died in February last year. Another 40 died in violent clashes after the verdict was read 25 January.
President Mohamed Morsy has attempted to calm the situation in the city by assigning a judge to head investigations into the post-verdict deaths, allocating LE400 million of Suez Canal revenue to developing Suez, Ismailia and Port Said, and making Port Said a free trade zone.
Former President Hosni Mubarak had canceled the free trade zone in Port Said, a move which many say had negative economic effects.
Thousands of workers, public employees, students and families of those wounded or killed in the post-verdict violence participated in the campaign, which has included strikes, protests and sit-ins. Residents have voiced frustration that authorities have yet to bring to trial those allegedly involved in the violence.
"We feel the pain the murderers caused the people of Port Said," said worker Mohamed Asran.
Edited translation from Al-Masry Al-Youm