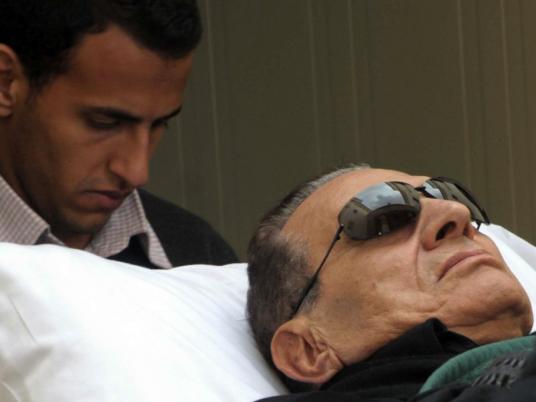 The prison authority has requested that the Defense Ministry grant permission to transfer former President Hosni Mubarak to Maadi Military Hospital due to his deteriorating health.
Assistant Interior Minister for prisons Mohamed Ibrahim told the Anadolu news agency that the transfer from Tora Prison to the hospital would take place as soon as the Defense Ministry responds to the request.
Mubarak had received treatment at that hospital before he began serving his sentence at Tora Prison.
Two days ago the former president fell while in the bathroom and sustained injuries to his head and bruises to his torso. He reportedly has had several fainting incidents over the past few weeks.
After Mubarak stepped down on 11 February 2011, he was treated in the Sharm al-Sheikh International Hospital. The Criminal Court then transferred him to the World Medical Center near Cairo as he awaited trial.
Hearings in the Mubarak trial began on 3 August 2011. He was sentenced to 25 years in prison for his role in the killing of demonstrators during the revolution.
The former top prosecutor transferred Mubarak to the Tora Prison Hospital on 2 June 2012. Mubarak briefly left Tora and was transferred to the Maadi Military Hospital shortly thereafter, but returned to prison on 17 July, where the majority of former regime figures are serving their sentences.