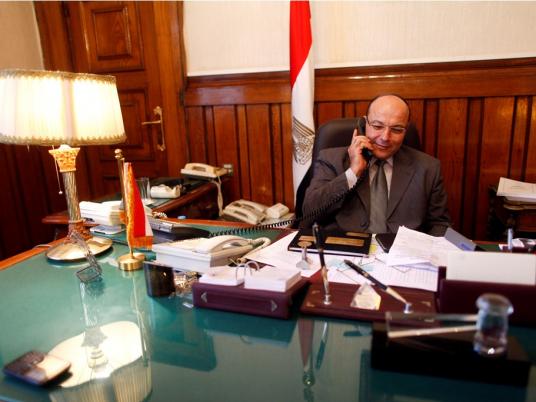 Prosecutors called on President Mohamed Morsy Tuesday to intervene and solve the crisis of the Prosecutor General Talaat Abdallah by instructing justice minister to submit Abdallah's resignation, which he had previously received, to the Supreme Council of Judges to decide on the matter.
A committee of young judges and prosecutors held a meeting Tuesday in Agouza district to follow up on the prosecutor general crisis. They reiterated their rejection to the appointment of Abdallah.
Following the meeting, the group issued a statement saying that prosecutors were falsely accused of thuggery by attempting to force Abdallah to resign.
The statement pointed out that Abdallah had said in an earlier televised speech that he was not forced or compelled to resign, and that he resigned for two reasons, namely fear that thugs infiltrate the sit-in of prosecutors outside his office, and so that prosecutors and judges boycott the constitutional referendum.
The prosecutors said in the statement they would work on ending the crisis without violating state sovereignty and through legal means that do not harm the country.
They called on the Supreme Council of Judges to carry out its responsibility and open an investigation into the memorandum that head of east Cairo prosecutions submitted alleging that Abdallah intervened in the investigations into Ettehadiya Presidential Palace clashes.
Head of the Cassation Court and the Supreme Council of Judges Mohamed Metwally said that the council's meeting Tuesday did not discuss the general prosecutor's crisis.
Metwally said fears that the Brotherhood sought to control the judiciary is just media talk.
"Talk about the 'Brotherhoodization' of the state is media speculation," Metwally told Al-Masry Al-Youm.
"The Supreme Council of Judges has not observed anything that would give rise to such fears," he added.
Edited translation from Al-Masry Al-Youm