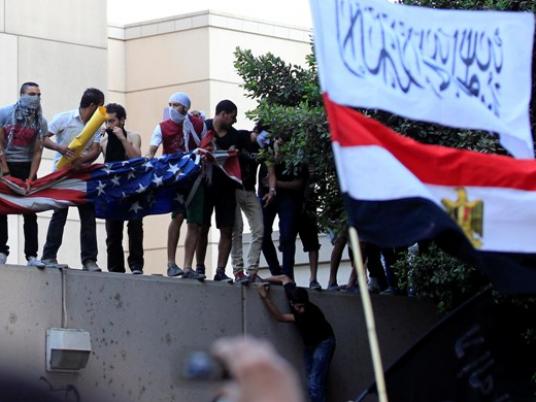 A protest against a film deemed offensive to the Prophet Mohamed turned violent as clashes erupted between demonstrators and police in the early hours of Thursday in Tahrir Square.
Police vehicles fired tear gas at protesters who were banging stones on metal to make noise. Stones were hurled from both sides.
An anonymous protester said he demands that the US ambassador to Egypt be expelled and measures against the screening of the film be taken.
Protesters chanted a mix of anti-police songs commonly sung by football fans, the ultras, and religious slogans for the Prophet Mohamed.
"I am here to defend the prophet and to protest the security men who are Muslims and yet preventing me from letting my voice be heard. Nothing has changed under [President Mohamed] Morsy. The revolution will prevail," said protester Abdallah al-Masry, 27, of the Movement of the Revolutionaries of the Egyptian Street.
Egypt Independent saw two police cars burning during the clashes, following which protesters were seen surrounded by police officers.
The protests on Thursday follow a round of demonstrations on Tuesday outside the American Embassy in Cairo, when the US flag was replaced with an Islamic flag bearing the words, "No god but Allah."
Morsy called on the Egyptian Embassy in the US to take action against the movie, while the Muslim Brotherhood called for protests on Friday.
The film, entitled "Innocence of Muslims," flashes between the present and the past, portraying the life of Christians under Islamic rule and the early days of Prophet Mohamed's leadership. The film was promoted by the controversial American priest Terry Jones, whose name is associated with the calls to burn the Quran in 2010, as well as some members of the Coptic diaspora in the US.