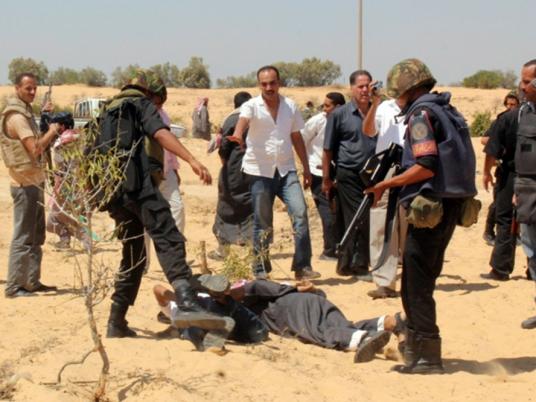 Security sources told Al-Hayat London-based newspaper that jihadi leaders might shift their operations from Sinai to other governorates after crackdowns in the peninsula.
The sources added that the security services were hunting jihadis in Cairo, Alexandria, Gharbiya, Giza, Qalyubiya, and Suez.
The Egyptian authorities arrested five people over the past two days, including a Tunisian national and a former Egyptian police officer. Another Libyan was killed during an exchange of fire with the police in the Cairo suburb of Nasr City.
Sources told Al-Hayet that the arrested cell members said that jihadis went to Sinai after the revolution to receive weapons training, but left the area after Operation Eagle began. The sources added that arrested jihadis had also said that jihadis were present in many Egyptian governorates, alleging that most had links to Al-Qaeda.
News reports mentioned that the Egyptian Intelligence Services interrogated the cell to see whether the members had links to Sheikh Mohamed Gamal al-Kashef (Abu Ahmed), who was released by Egyptian authorities after the revolution. The Egyptian authorities accuse Abu Ahmed of leading an attack on the US Consulate in Benghazi in September 2012.
Security sources said that investigations revealed that Abu Ahmed had close links to Al-Qaeda leader Ayman al-Zawahiri, who assigned him to lead the organization in Egypt and Libya. The sources did not confirm whether Abu Ahmed was in Egypt.
The sources alleged that Abu Ahmed masterminded several operations carried out during the last period, particularly in Libya and Yemen, upon Zawahiri's instructions, and that he got the green light to carry out further jihadi operations in Egypt and Libya.
Jama'a al-Islalamiya leader Nageh Ibrahim said he expected dozens of cells to be revealed soon as their activity became known in certain mosques under names such as "Dawa and Jihad."