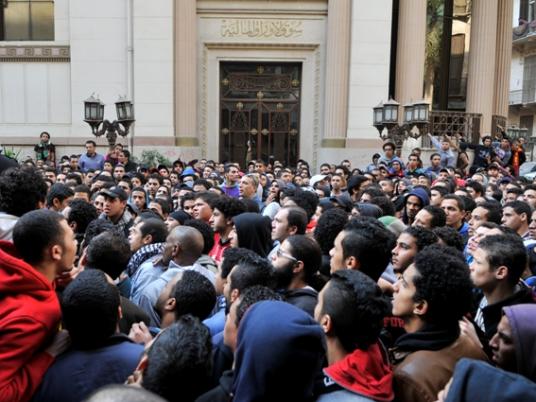 The stock market rose this week by US$123 million amid a weak performance as investors fear consequences of the upcoming 25 January revolution anniversary and football fans' protest at the stock exchange headquarters.
The main index, EGX 30, rose by 0.4 percent, gaining 28 points to reach 5,689 points. The capital market gained LE900 million, reaching LE381.6 billion.
Mohsen Adel, managing director of Pioneers investment funds company, said the ultras' protest Wednesday increased pressure on the stock market and caused investors to be more cautious.
The Ultras Ahlawy, a hardcore football fan group, protested outside the exchange headquarters ahead of a verdict scheduled Saturday in a case against defendants accused of involvement in football match riots last February in which 72 Ahly team fans were killed.
Adel said the stock market wasn't only affected by the ultras' protests, but also by the liquidity shortage and fears of consequences of the revolution's second anniversary.
"We were negatively affected by Moody's credit rating putting Egypt on review, as well as consequences of deal by Dutch company to buy local shares of Orascom Construction Industries," he added.
Orascom said Friday that OCI NV is a Dutch company that follows it, and that it would buy the shares for LE280 each or grant shareholders' shares of the Dutch company, in case the selling of the shares was refused.
Edited translation from MENA