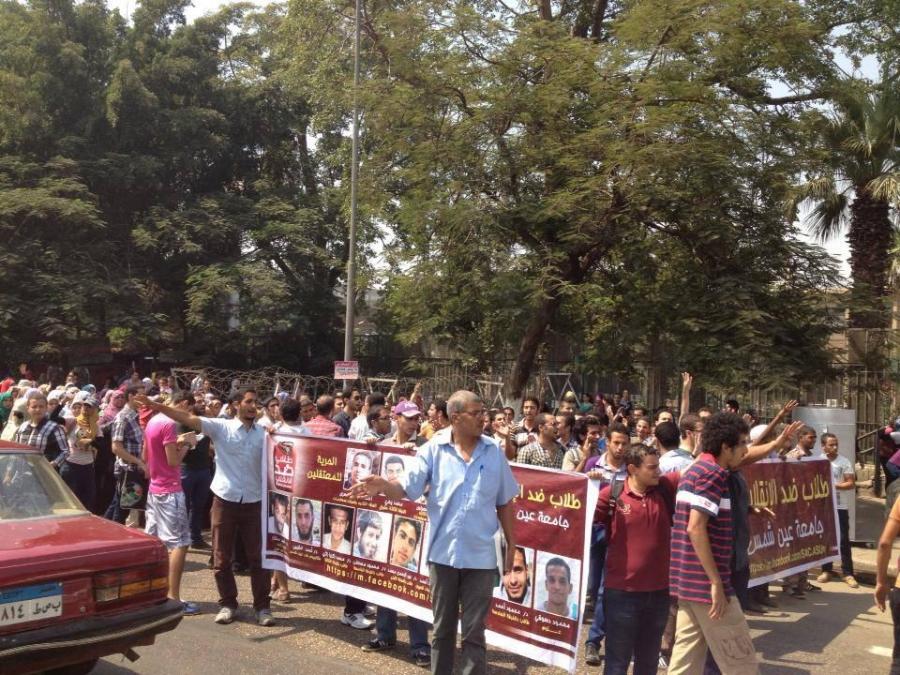 Pro-Muslim Brotherhood students from Ain Shams University blocked the vital Al-Khalifa Al-Mamoun street in Heliopolis Thursday while marching from campus towards the Defense Ministry.
A number of protesters threw stones at military police around the ministry.
Security forces fired tear gas, causing a number of students to be suffocated, as well as water cannons
. No deaths were reported.
Barbed wire has been installed around the perimeter of the ministry.
Dozens of female students from Al-Azhar University joined the march, raising the four-finger Rabea al-Adaweya sign and chanting slogans against the army and police.
Students ended the protest this evening and returned to campus.
In the southern city of Minya, Pro-MB students shut down the gates of the Faculty of Engineering, preventing students and professors from going in and starting a strike in protest of the arrest of 13 fellow students at a demonstration.
The 13 pro-MB students were arrested last week for rioting, and are facing the charges of injuring a police officer, causing damage to vehicles and breaking the newly-instated protest law, which requires prior authorization for demonstrations.
Egyptian universities have been witnessing a rising tide of demonstrations denouncing the current regime that ousted Morsy in July.
Edited translation from Al-Masry Al-Youm