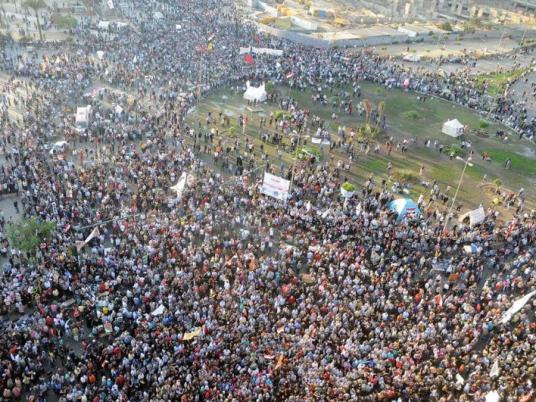 Tahrir Square was calm Tuesday morning ahead of massive protests called for by secular political groups to voice opposition to a constitutional declaration President Mohamed Morsy issued on Thursday, granting him unchallengeable legislative powers.
Political forces intend to stage three peaceful marches setting off for Tahrir Square from Sayyeda Zeinab and Fatah mosques in Cairo, Mostafa Mahmoud mosque in Giza, and Dawaran Shubra. Meanwhile, Egyptian musicians and artists' syndicates said in a joint statement late Monday their march will move from the Opera House to Tahrir Square.
Among the most notable organizers there are the Egyptian Popular Current, the Constitution Party, the Socialist Popular Alliance Party, the Karama Party, the Free Egyptians Party, the April 6 Youth Movement, Kefaya and the Maspero Youth Union.
The Ministry of Health has deployed a number of ambulances at streets nearby the square. Protesters have erected a field clinic to treat the wounded in case of violence.
Near the American Embassy at Simon Bolivar square, teenagers threw rocks at police, AFP reporter said. The police responded with tear gas.
In Tahrir, protesters at the podium urged for an end to the clashes, which was a continuaiton from previous nights.
A controversial declaration
President Mohamed Morsy issued a constitutional declaration on Thursday protecting his decrees from judicial challenges, and removed controversial Public Prosecutor Abdel Meguid Mahmoud. He also shielded the Constituent Assembly and the Shura Council from dissolution.
The move sparked an uproar among judges, as well as non-Islamist movements that had called for massive protests on Tuesday in Tahrir Square.
The Muslim Brotherhood, of which Morsy was a former leader, had previously called for parallel demonstrations to support his decisions, but cancelled the protests to "avoid potential tensions and violence," according to a statement by official spokesperson "Mahmoud Ghozlan."
Edited translation from MENA