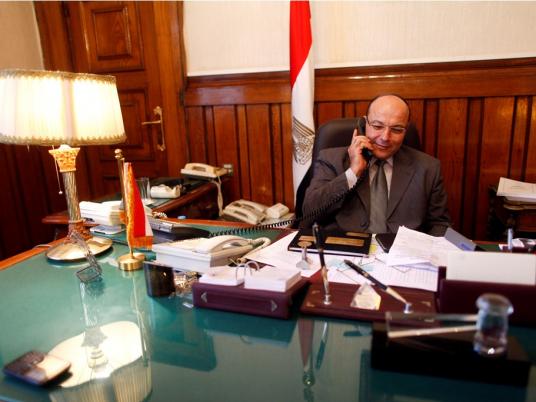 A top judicial official said Thursday that Prosecutor General Talaat Abdallah has backtracked on the resignation he submitted to the council.
Abdallah submitted a request to head of the Supreme Judicial Council Mohamed Metwally Thursday requesting the cancellation of his resignation, Supreme Judicial Council Secretary General Mohamed Eid Mahgoub said.
Abdallah told state-run newspaper Al-Ahram that he changed his mind because he had resigned under pressure from members of the prosecution, adding that capitulating to this pressure would set an unacceptable precedent.
Prosecutors rejected Abdallah's recent appointment by President Mohamed Morsy and accused him of pressuring the investigators of the presidential palace clashes between Morsy's supporters and opponents to detain protesters without cause. East Cairo prosecutors released more than 130 suspects for what they said was a lack of evidence.
Mahgoub said that upon Abdallah's request, the Supreme Judicial Council held an urgent meeting Thursday at the Supreme Constitutional Court headquarters and agreed to refer the issue to Justice Minister Ahmed Mekky, according to the judicial authority law.
Judicial sources told Turkish news agency Anadolu that even if Abdallah's resignation was accepted, he could still be among the three nominees the SJC selects for the top prosecution post. According to the 2011 constitutional declaration, the president chooses from among the three candidates the SJC nominates for prosecutor general.
Former Prosecutor General Abdel Meguid Mahmoud's dismissal last month caused a rift between the judiciary and Morsy after he appointed Abdallah the new top prosecutor by executive order.
According to law, the president does not have the power to fire judicial officials, which prompted Morsy to issue a controversial constitutional declaration that gave him immunity against judicial oversight. Public outcry at his decision prompted him earlier this month to replace that declaration with a weaker version.
Edited translation from Al-Masry Al-Youm